By: Freaknick
I live in Atlanta, Georgia.  Home of the Hawks, and formerly the home of one Josh Childress.  So naturally my conversations about the Euroleague start quite similarly: "How's that Childress fella doing?"…or something like that.  I briefly touch on his triumphs and his troubles, and most folks focus on the latter.
This is when I hit them with my qualifiers and conditions to justify Childress' lack of statistical success: "Well, Childress' game really isn't ideally suited for the style of play over there, which can take some getting used to.  He makes up for it with his athleticism, but it's not fair to expect him to dominate from day one."
Inevitably, then, the follow-up: "What do you mean?  How is it any different?"
So I give my oral presentation of a few keys to succeeding in a Euroleague backcourt:
high-percentage shotmaker with decent range
clever and crafty without the ball
the ability to dribble drive and finish with authority—even occasionally—separates the stars from the contributors
smart, productive passer who can execute the pick and roll (nearly to perfection)
Effective on-ball defender who is-at the very least-skilled enough to funnel the ball toward his help.  Again, excellent defense is a plus.
Based on those little bullets, it sounds like there are a few folks riding pine in the NBA that could reinvigorate their careers with a little hop, skip, and a jump overseas.  Exhibit A: Wally Szczerbiak.
After averaging 10 or more points per game in each of his first nine seasons (with a high watermark of 19 as recently as '06), Szczerbiak has had to sacrifice minutes and attention playing for the Cleveland LeBrons over the past season and a half.  In those 95 games, he's averaged under eight points in only 20 minutes per game, and both of those numbers look to drop with the addition of 2-Time Euroleague MVP Anthony Parker, who will likely fill his role as a shooter who can guard 2's and 3's.  To make matters worse, Cleveland has not even made him an offer this offseason.
So imagine my dismay to hear that Szczerbiak turned down an offer from Real Madrid to play, most likely in a starting role.  Especially displeasing was the fact that his father played in Spain, is currently an American scout for Spanish teams, and young Wally lived in Spain as a kid and can speak Spanish just fine.  He's a dark-haired white guy who speaks the language.  There goes your "cultural change" argument right out the window.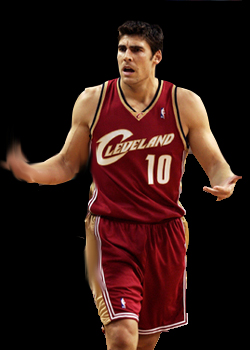 And, do you really want to stay in Cleveland? Cleveland? It's not like you're hanging on to some team in Hawai'i with white hot sands and exotic women.  You're turning down a chance to live out the twilight of your career in the city ranked #17 on AskMen.com's Best 29 Cities to Live In for the off chance that you might be the fourth guy off the bench for the Cavaliers.  On Real Madrid, he could play major minutes for a coach that is not afraid to let his guys shoot the rock (Messina's CSKA team last year put up 20 3's per game; that's one every two minutes).  Madrid is a team on the rise with championship aspirations, and all that's missing is some depth in the backcourt.
If Szczerbiak really just wants to stay in the US at all costs, then I guess there's nothing I can say to dissuade him; however, if he wants to slap a few extra years of top-quality production onto his under-appreciated career, then he should politely bid farewell to a team that has been constantly trying to replace him and discover the oh-so-greener pastures of the Euroleague.