By: Nick Gibson / @euro_adventures
KK Zagreb: The Euroleague's whipping boy. Four losses in four games, not a one of them remotely close. Average margin of defeat: 26.
Or…
KK Zagreb: Euroleague fantasy behemoth.
Well, their 200 total team rank is last in the Euroleague and 27 less than Andrei Kirilenko and Nicolas Batum have had as a tandem, but hey: somebody's gotta score, right?
Right?
Pick 'Em Up
Ty Lawson, PG, Zalgiris
Price: 46.4   Average RKG: 11.6
Telling you to pick him up last week is one of the few uppers in my world of fantasy downers, so I'm keeping this up here if for nothing else but nostalgia.
Igor Rakocevic, SG/SF, Montepaschi Siena
Price: 36.9   Average RKG: 5.0
This isn't a short term add-on here, guys. This is Igor Rakocevic, three-time EL scoring champ, for 37 credits and playing on a team that would love to get their arms around some perimeter production not named Bo. So pick him up. Or don't, and it'll be a Festivus the rest of us.
Mario Kasun, PF/C, KK Zagreb
Price: 39.9   Average RKG: 11.5
Blah blah blah [first tattoo joke] blah blah, [joke about Zagreb being an abomination of a basketball team] blah blah blah blah.
Tab down a couple of lines for effect, then…
[Tattoo punchline that's only funny to me, probably.]
Cut 'Em Loose
Theo Papaloukas, PG, Maccabi
Price: 46.7   Average RKG: 8.9
The old reliable has been anything but in fantasy circles after a promising first couple of weeks launched his value up toward the elite. With Jordan Farmar playing like a superstar and Yogev Ohayon playing a total of 35 minutes in weeks three and four, Papaloukas has had a chance to rest his legs and watch his credits take a tumble in the Fantasy Challenge. Ten minutes in week three, down to five at Anadolu Efes, and Keith Langford hasn't even started to seriously poach Maccabi's backcourt minutes. Love Theo, love what he stands for and what he's given to European basketball over the last decade; I just don't want him anywhere near my fantasy team.
Carlos Suarez, SG/SF, Real Madrid
Price: 36.7   Average RKG: 8.4
Suarez turned a 2009-10 All-ACB season with Estudiantes into a Real Madrid contract and made the hoop geeks happy with RKGs of 22, 10 and 9 during the first few weeks of Euroleague play. Then in week four, he put up a performance that will live in Fantasy Challenge lore long after his time on earth is done: zero shots taken and a 26 RKG.
But the legendary stat line clouded Suarez in a God-like mystique, so much so that we lost sight of the truth: Carlos Suarez isn't built for fantasy. Sure, he'll have where weeks where his role lines up with the criteria for RKG, but Carlos is out there to do set the screens, dig loose balls out of a scrum and make the pass to the guy who makes the pass. If you could chalk in 25 minutes per game, I'd say go for it. But with Pablo Laso struggling to find his favorites, you can't count on much.
D'Or Fischer, PF/C, Bilbao Basket
Price: 53.4   Average RKG: 13.3
The jump-swat-board guys traditionally have a hard time sticking in these sorts of formats. The offensive game is limited, there aren't many (if any) plays run for you, and foul trouble is always a concern. All of that plus Bilbao's struggles would lead me to cut ties with the former West Virginia Mountaineer.
Ride 'Em Out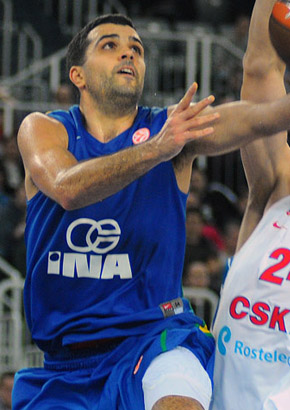 Ben Woodside, PG, Union Olimpija
Price: 26.0   Average RKG: 6.5
As the season gets older and players prove which side of the fantasy fence they belong on, this section gets harder and harder. So sure, if you purchased Woodside (or 'Woodhouse' as last week's EL announcer called him) for a price that began with a "Thirty-____" then hold your horses and hang onto your Woodhouses. Anything more, well…I'm sorry?
Krunoslav Simon, SG/SF, KK Zagreb
Price: 29.0   Average RKG: 6.2
I know you've all been scrambling to get yourself a piece of this KK Zagreb offense. Here's your chance.
Sean May, PF/C, KK Zagreb
Price: 58.2   Average RKG: 15.3
With five whistles and a few good ol' fashioned yells—some directed toward his own teammates—Sean May fouled out and took a technical home in his goodie bag. This week, however, it's water well under the bridge. He'll be fellow Tar Heel Ty Lawson and Zalgiris in their most winnable game of the year, and they haven't got many options outside of Big May. Besides, even his RKG of four last week hasn't taken a bite out of his value, and he's scheduled to go up again if he can just hit his average.
Maybe Next Week
EJ Rowland, PG, Unicaja
Julius Jenkins, SG/SF, Brose Baskets Bamberg
Nedzad Sinanovic, PF/C, Unicaja
******
Freaknick=Paulius=Forever
Thanks to a negative five RKG from Georgios Printezis and zero from Milos Teodosic (just had to have that gut feeling, didn't I?), I ended up with a 99 overall score.
Not my proudest moment, yet sadly, also not my lowest.
My Drops: Luka Zoric, Mindaugas Kuzmiunskas, Tremmell Darden (did anyone stick with this guy as long as I did? For your sake, I hope not.)
The squad (adds have an * next to them)…
Acie Law, Partizan: Keep truckin', Acie.
Milos Teodosic, CSKA Moscow: Always looks sleepy. Now he's playing like it, too. No bueno.
Nicolas Batum, SLUC Nancy: I guess we've got this guy all year long now.
*Igor Rakocevic, Montepaschi Siena: About time I start taking my own advice.
*Bojan Bogdanovic, Fenerbahçe Ülker: Please don't suck, please don't suck, please don't…
Andrei Kirilenko, CSKA Moscow: I tell myself I'll trade him and make out like a bandit with extra cash. Too scared to pull the trigger.
*Furkan Aldemir, Galatasaray: Had himself quite the week.
Georgios Printezis, Olympiacos: Give me two solid home performances then I'll cut you for good. Promise.
Robert Rothbart, Union Olimpija: You already know.