By: @DONbblog
Let me begin by stating a common truth: Like him or not, Milos Teodosic is a star.
A star in whom we all saw true greatness from the beginning.  A star that shone brightly from a very young age, who is still only in his mid 20s, and yet we all judge him as a veteran.  A star that's already shone so many times, yet still not as many times as he has perished. A star that is the most controversial among all Euroleaguers.
So controversial that in the past few months we have heard not one, but four of the greatest European coaches talking about Milos, trying to figure him out, trying to find what is holding him back, trying to explain why he keeps failing.
When CSKA lost THE FINAL against Olympiacos after a dramatic 19-point turnaround, coach Jonas Kazlauskas tried to explain it by simply stating:
At the beginning, [Teodosic] was excellent. He was the biggest difference in the beginning. In the end he has to control the team and he didn't.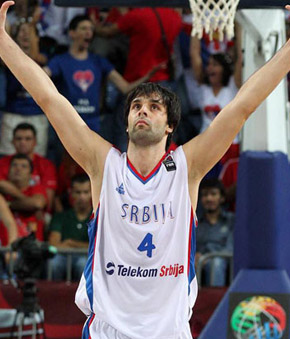 As if losing the trophy from your former team and having your own coach slam you during the press conference wasn't enough, Milos' underachieving performance with the national team during the EuroBasket 2013 qualification round drew public scrutiny from Zoran Slavnic.
I am very disappointed with the game of Milos Teodosic as well as with his behavior. His game doesn't involve his teammates even if he is the most creative player in Europe of the past ten years. It is really amazing that his [coaches have] failed to teach him his role on the team and to play as a point guard. He is the main culprit in the recent losses and is still behaving very irresponsibly. He is the best point guard in Europe, but he hasn't shown it in the national team.
His "Godfather", Dusan Ivkovic, who has also failed to properly manage and guide the talented point guard both in Olympiacos and the national team, emerged to protect him.
The greatest problems in our game are caused by the lack of proper substitutes for Teodosic. I had hoped a back-up might be found in one of the younger guys – Nedovic, Andjusic or Jaramaz. They gave their best, but we faced the problem that the injured Rasic could not handle the responsibility for one moment. Neither could Tepic. Milos is a romantic, a player who lives for one pass, one assist. All our recent successes were made around him. Yet, I told him he has to change some things. That he has to work more, especially on defense. How will he be playing under a demanding coach next season?  And finally, how I don't understand why a player of his age has no ambition to play in the NBA.
The question raised by Duda was answered from Messina himself, just a few months later (February) after CSKA shockingly lost at home against Zalgiris Kaunas in the VTB League.
Clearly, there is progress in Teodosic's game, but there's still plenty of work to do in order for him to reach the necessary level to be a leader. Do you think that I'm doing nothing or that I'm Dr. Frankenstein and I can change his head as I please? Everything depends on the player. I can help but he will only change when he wants to.
All the judgment, all the questioning, all the uncertainty for a 25-year old player that has already played in: one FIBA Eurobasket Final (2009) and one FIBA World Championship Semifinal (2010) and was a member of the All-Tournament Teams in both; two Euroleague Finals (2010, 2012) and earned spots on the All-Euroleague First and Second teams, respectively.  In 2010, he became the youngest Euroleague MVP and the youngest European Player of the Year .
So some may ask, what is wrong with Milos?
Milos Teodosic is destined-no matter how many individual honors he earns or national team accolades he get-to be judged by the answer to one simple question: Did he lead his team to the Euroleague title or did he NOT?
So far he has made it there twice, and failed both times.
The myth has it that during the 2010 campaign and before the decisive final against FC Barcelona, Milos decided to party a bit more than he was supposed to. As a result, Milos, after a 40-minute performance against Partizan (in which Milos' airball assisted Childress' overtime-forcing bucket), Teodosic played only 24 minutes against FC Barcelona – the last time he had played so little was back in December  2009 against Unicaja Malaga. Olympiacos failed in a shocking manner, losing by 18 points, a Euroleague Finals record.
And last year? We all remember THE FINAL. We all remember Milos heading to the bench, after leading CSKA to a triumphant 'victory' against Olympiacos by 19 points with just a couple of minutes remaining until the end of the third period. By then Milos had already played a solid game, doing his part to the tune of 15 points, 5-of-9 FG (four three-pointers), four rebounds, three assists, one steal and only one turnover.
But this wasn't dramatic enough for Milos.