By: Freaknick/@euro_adventures
We're five games deep and we've learned plenty. Spain misses Pau, Team USA has weaknesses, and Serbia's getting comfortable. Sixteen of the 24 teams have left the challenge of advancing behind them and have their next opponent in mind, but I'd caution against ignoring what happened in pool play. The hot—Lithuania, Turkey, Serbia—and cold—Spain, France—teams won't deny what they've done to this point, but they've all got the proverbial clean slate; a few tweaks might be enough to reverse their fortunes.
A coach's weapons are his words and his clipboard, but championships have always been won by players who execute. This tournament is no exception. Here are five guys who need to elevate their play in the next round.
Hedo Turkoglu, Turkey: Without a doubt, Turkoglu's most valuable asset has been his passing. Tall enough to see over zones and smart enough to draw an extra defender when he drives, he leads this Turkish side with 4 assists per contest. As I said many times leading up to the tournament, Hedo the Distributor is a much better look than Hedo the Chucker, yet he's somehow managed to be both. Though the hosts must love watching their star swing the ball and fire it inside, the 15/47 shooting—that's 32% for those who struggle with math like I do—has got to stop. Turkey's played great basketball up to this point, but they won't be able to win this tournament if Turkoglu's keeps clanking at this rate.
Ricky Rubio, Spain: People in America and Europe have gotten on me for my relentless defense of his ability. At the point guard position, I don't think I've ever seen anyone so young understand the nuances of an offense quite like Ricky. For this reason, Calderon's injury worried me slightly less than it did others, as I was certain Ricky could step right in and fill it up for Spain, leading them to wins. And technically, that's been correct: he has led them to wins. But in their losses, it's been a different story. The stats:
Three wins: 5.3 points; 4.3 rebounds; 8.7 assists

Two losses: 4.5 points; 2.5 rebounds; 2.5 assists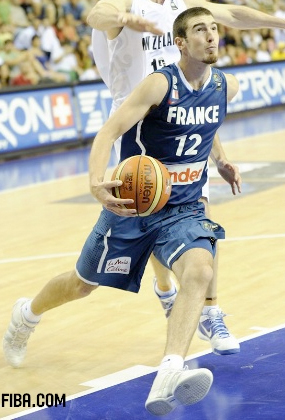 Granted, the rest of the team is not exactly playing top-notch basketball either, but it's Rubio's job to take advantage of opportunities when they arise and create them when they don't. With Raul Lopez as the veteran back-up taking zero shots in four of the five games and only exceeding 2 assists a single time, it seems that this team will only go as far as Rubio lets them.
Nando de Colo, France: Whereas Calderon's absence thrust the weight onto Rubio's shoulders, Rodrigue Beaubois's broken foot—paired with Tony Parker's summer off—made Nando the floor leader. After making moves this year with Eurocup champion Valencia, he has looked far too passive in France's first five games. He has relied on Batum and Gelabale and even Diaw to dominate the ball and penetrate, and that's fine. But France needs to give defenses the challenge of stopping the drive from the top of the key. Until they do that, opponents can just settle in and live with de Colo as a jumpshooter: 16 of his 29 shots have been from three.
Andre Iguodala, United States: Iguodala's role on this team as a lockdown has never been questioned. What interests me is his relative worth when compared to others playing behind him. Especially with the line-up we've thrown out—Chauncey Billups, Derrick Rose, Kevin Durant, Iguodala and Lamar Odom—Iggy is taking the spot of an additional big, and when Kevin Love has been the USA's most productive per-minute player, it makes it tough to justify going small the entire game. To his credit, his 2 steals per game is tied with Kevin Durant for the team lead and 10th in the tournament, but we'll see if it was all worth it when we go up against a Rudy Fernandez or a Linas Kleiza. It seems as though Coach K is sticking with the Philadelphia 76er, so he might as well make a genius out of him.
Dimitris Diamantidis, Greece: Greece entered this tournament as my fourth strongest team, and I was definitely less optimistic than most. A big reason I questioned them was because of their lack of an impact small forward, and Dimitris was the least of my worries. When Greece's offense is working well, Diamantidis is getting into the lane and kicking it out either for a shooter or for someone to drive the opening he created. It looks pretty when shots are falling, but when they're off the mark in crunch time then beating equally talented teams becomes an issue. In the pool play Diamantidis has taken 29 three pointers vs. 6 from inside the arc, and in the opener vs. China he took 13 threes and zero twos. When he gets to the rim it would behoove him to get his own offense every now and then. He's a great player and the man Greeks look to for leadership. In a tough opening match against Spain, he'll need to come up big on both ends of the ball.