By: Nick Gibson / @euro_adventures
Stepping on the court has never been a prerequisite for a Yao Ming NBA All-Star selection. Rocking the cast and some Big & Tall threads on the sideline usually is ample persuasion for our typical Chinese voter. I imagine Ye Ole Shanghai Starbucks can get pretty steamy (WARNING: Bad coffee pun.) with converted Houston fans jamming up the WiFi with straight-ticket Rocket voting. Tracy McGrady should send thank you cards—from Detroit because, remember China, he's in Detroit—to all two billion of them for keeping his rep up as his career whimpers to a close in the Motor City.
I hear Steve Francis is still getting write-ins. Do your thing, Franchise.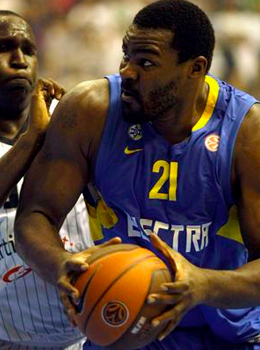 It appears as though Greece saved their trump card for the (Turkish Airlines) Euroleague, and now it lies face up on the All-EL ballots, smirking. With only four days left for the world to cast its vote, Greece has commandeered the PA system, cleared her throat, and triumphantly declared her preferred starting five:
Dimitris Diamantidis at the point. Vassilis Spanoulis and Romain Sato at the wings. Antonis Fotsis and Mike Batiste manning the post.
As for DD, he's appeared on a league-high 49.9% of ballots. That's absolutely ridiculous.
How did his excellence elude the eyes of 50.1% of voters? That's officially a majority. Unofficially, an injustice.
Maybe the Euroleague is just trying to go green, or pinch pennies on shipping. A cardboard box and some bubble wrap could get all those trophies safely to Athens, then Spanoulis could just Vespa his way in from Piraeus to scoop his prize.
For good measure, toss the Second Team hardware in with it; Teodosic is in line to run the point for the B Squad, with Sofoklis Schortsanitis—playing for Maccabi but still very much a son of Hellas—down low trailed closely by Olympiacos' Ioannis Bourousis and Rasho Nesterovic.
In fact, when you look at the top 15 vote-getters (or at least the top five from each of the three categories: PGs, wings and bigs), 10 have Greek ties. Always ferociously loyal, the Greeks have outdone themselves this time. Bravo κυρίες και κύριοι συνάδελφοι. (Don't hate the player, hate Google Translate.)
And with half of Greece suffering form click-induced carpal tunnel, the rest of you guys have some serious thinking to do. I'm talking to you, Spain and Israel. Get your click on.
For starters, let's bid adieu to the Navarro auto-bid. It's a blast to roll those R's at the end of his name and almost as much fun to watch him murder defenders, but he should concede his spot in Spain's grub line this year; Fernando San Emeterio looked a little hungrier from the get-go. Navarro is the league's finest scorer surrounded by the best supporting cast Euros can purchase, yet he couldn't carry Barcelona to a second consecutive Final Four, even as homecourt advantage dangled in front of their noses.
C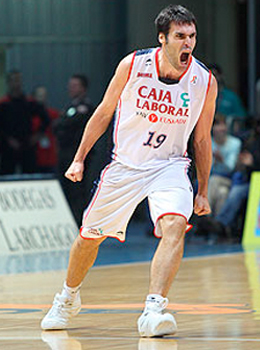 aja Laboral fared no better in the playoffs, but FSE (trying that one out, not sure it'll stick) hurled himself into a dimly-lit room, devoid of toughness, and brightened up Coach Ivkovic's line-up card. Teletovic, Logan, even Huertas had their crests and valleys, but San Emeterio chugged his way up that same hill with long, deep-cleated strides. When his barefooted brethren lost their footing, Fernando lassoed them up and reeled them in, staying the course while the other guys recuperated, reclaimed what was left of their jumpers.
But there FSE sits. Fourth slot, as opposed to first where he so clearly belongs. A mere 6.7% of voters felt as though he were worthy of their left-click.
And what about you, Israel? The Greek alliance should be Sofo's booster seat—one huge ass, titanium booster seat—to the first team.  All the Blue and Yellow need to is flick their wrists for that final propulsion. Fotsis should be picking up a chair to chuck as Schortsanitis stalks him to the sidelines and into the tunnel, yet Antonis rests comfortably on that first team with just four days left to cast votes.
Not to mention the absence of Doron Perkins, a man I considered a first teamer on the wing before a bum knee grounded him for the season, turning him into a trampoline onto which Jeremy Pargo would leap, bounding his way into the point guard discussion with 23 and 26-point games to punch Tel Aviv's ticket to Barcelona. As it stands, Pargo's behind Papaloukas for fifth place and Perkins couldn't even crash the swingman party, which apparently only dispersed invitations to Spain and Greece.
In the end, fan voting only accounts for 25% of the final results, so I guess I'm 75% indifferent to the goings on of said vote. The lower quarter of my body, however, won't stop with the damned involuntary twitches.
UPDATE: Just checked our site's traffic report. Looks like Beijing is buzzing. Do you hear that, Dimitris? It's Steve Francis gaining on you.