by Nick Gibson / @euro_adventures
The double helix has yielded some marvelous things in its time. It had a hand in inventing the wheel, fire, yo-yos and your instant queue on Netflix. It made the man who sliced the bread, the Henry who made the Ford and really, really strong dogs. But when these DNA patterns are duplicated, funny things happen. Take, for instance, twins. More specifically, twins who play basketball, and are abnormally large to boot. The same DNA that blesses them with the dual threat of size and coordination also has led to most of them attending the same schools, even once they have a choice. Instead of choosing new, separate worlds where nobody mixes up their names, they go to the same colleges and compete for playing time. Brook and Robin Lopez played at Stanford, Jason and Jarron Collins before them; Markieff and Marcus Morris are Jayhawking it together in Lawrence, KS; and David and Travis Wear not only went to North Carolina together,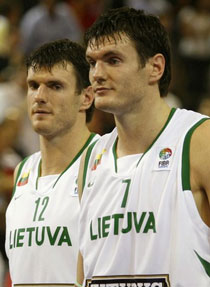 they even decided to pack their matching duffels and transfer to UCLA together.
Then there's Ksistof and Darjus Lavrinovic. They've apparently had enough of the buddy-buddy act and now play in different countries — Ksistof in Italy with Siena and Darjus some miles east in Istanbul with Fenerbahçe Ülker. But despite their valiant efforts, the magnetic pull of that double helix landed the Lithuanian 7-footers together in Group C and this week, they'll do battle once more. Darjus got the best of Ksistof the first time around, but I have a feeling this game will be different.
I'm (finally) rounding into form with a 9-3 Week 8, bringing my overall record to 45-27. Let's dive into Week 9:
Group A
Zalgiris (5-3) vs. Caja Laboral (3-5)
Last year, Zalgiris ran through three coaches before Vladimir Romanov decided they could win the Lithuanian title without one. They tried, they failed, but it was fun as hell to watch. This season, Romanov's trying to meet his coaching quota before the new year as Rimantas Grigas takes over for Aco Petrovic, the same Aco who has led them a 5-3 in the Euroleague — good for second place in Group A — and 9-0 in the LKL. Mad Vlad works in mysterious ways, but I'm only concerned with the guys in the green shirts, not the suits. Zalgiris.
*Maccabi Electra (7-1) vs. BC Khimki (3-5)
David Blu's (Bluthenthal for us old timers) three catapulted Maccabi over the Russians when these two met in Week 4, but those sorts of heroics shouldn't be necessary this Thursday; Blu and his pals have won their four home games by an average of 20.5 this season. Maccabi Electra.
Partizan (4-4) vs. Asseco Prokom (2-6)
If you wipe James Gist's debut clean, his 18.8 average RKG has been the best among Continue Reading…
Related posts: