By: Freaknick / @euro_adventures
Apparently, all this Twitter nonsense has gained some serious steam since @Euro_Adventures' humble beginnings on one of our generation's premiere time wasters. With your busy schedules and my unsurpassed laziness in mind, I give you Euroleague Tweetables. It's a collection of Euroleague musings, revelations, and lingering questions, all packaged and neatly wrapped into a collection of nuggets, each 140 characters in length or shorter.
And with that, we further defile the written word down to some cheap novelty. Enjoy.
1. Though Caja Laboral has fallen to 2-5, today they accomplished something few ever have: their defense out-terribled Asseco Prokom's.
2. J.R. Holden, Matjaz Smodis, Ramunas Siskauskas and Trajan Langdon all played 30 minutes. That wins you a championship. A 2007 championship.
3. Roko Ukic is the league's best point guard, dribble for dribble. Only 4 turnovers all season and never so much as a superfluous wrist flick.
4. Bo McCalebb, apparently, would like me to reconsider. A 28 RKG in 21 minutes complete with 5 steals. And nobody in the NBA is interested?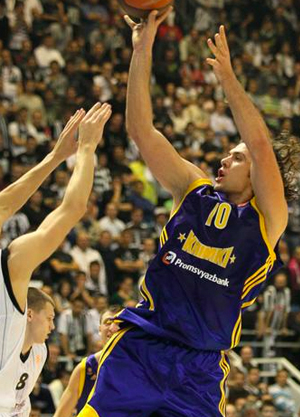 5. Kresimir Loncar looks like an overgrown Sasha Vujacic. I wonder if he's engaged to an overgrown Maria Sharapova…
6. Our first glimpse of Curtis Jerrells was an awkward crossover-turned-turnover. Everything from there was gravy: 13 points in 16 minutes.
7. Milenko Tepic put up 9 today, 13 two weeks ago. His previous Panathinaikos high in 19 EL games: 8. My, how the mighty have…stalled out.
8. See what happens when Sergio Scariolo lets Keith Langford do whatever the hell he wants? Good things. 22 points. Good things.
9. I decided I'm coming out with an EL Fantasy All-Star team. That's how badly I wanted to invent an accolade to bestow upon Leon Radosevic.
10. Just to clear things up with the title, Caja's season hasn't "rolled away" quite yet. But it was a cool picture that made sense at the time.
11. So you thought Sarunas Jasikevicius was a fantasy bargain after dropping 12 points and 8 dimes? Seven turnovers this week. Bullet: dodged.
12. I tell myself that Sasha Kaun's injury is the single most important reason for CSKA's demise, yet Sokolov gets 17 and 8 and they still lose.
13. Another thing, Jamont Gordon needs to introduce himself to Dimitry Shakulin. "Hey coach. Been the man here all season. 12 minutes? Please."
14. Having an 18-year-old as your most productive player sounds rather enthralling, but just ask Lietuvos Rytas if it's any fun.
15. Caja Laboral must really miss Tiago Splitter's 13 and 5 this year. I mean,  Stanko Barac is only putting up 15 and 8. Must be why they're struggling.
16. Stanko Barac is only putting up 15 and 8. Must be why they're struggling. Caja Laboral must really miss Tiago Splitter's 13 and 5 this year.
17. Methodical basketball can be downright tedious, but watching two teams flail limp limbs around, calling it "defense" is no gun show either.