For Part One of Enrique's epic Spanish basketball exposé, click right here.
Note: In case you didn't know it, in Spain, the ACB is a competition that is not ruled by the Federacion Española de Baloncesto (the Spanish Basketball Federation or FEB).
You can compare FEB to an animal who has two heads: one of them is big and very influential (National Teams) and the other is weak and has health problems. They share a body, but only one gets food.
If we look who they managed the national teams (both at the youth and senior levels) they did a great job. Spain was one of the most succeseful in the world in the last decade. They got almost every NBA player in national championships and they built a very profitable business around it. They called it ÑBA (Ñ is a Spanish letter). They also successfully naturalized the Congolese Serge Ibaka and the Montenegrin Nikola Mirotic, two dynamic young players who can fix the problems in the Spanish frontcourt.
However, Spanish Basketball isn't only ÑBA.
FEB rules LEB Oro and LEB Plata (Spain's second and third professional divisions), Liga EBA (Española de Baloncesto Amateur, Spain's fourth division) and Spain's youth division. Day-to-day problems are very serious and the situation is not good.  Many teams disappear, and even an entire division-Spain's LEB Bronce-closed its doors in 2009 after just two seasons. There are problems with travel, with referees and every year FEB has fewer professional teams (from 50 to 18 in the last five years).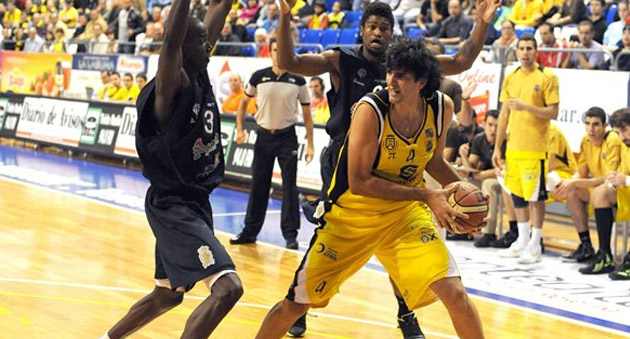 What The LEB Used To Be
It was considered one of the best leagues in Europe. Many teams fought to have a spot in the ACB and they spent a lot of money considering they were second division teams. Some teams reached ACB salaries (around €300,000 ) and players like Richi Guillen, the best player in LEB history, prefered to remain in LEB than in ACB because he earned the same and played more minutes.
The FEB saw all the investment in basketball people and in 2000 they created the LEB Plata, or LEB Silver.  Then in 2007 they expanded again, this time by opening the LEB Bronce, or LEB Bronze. They tried to build a bigger, better basketball league, making it harder to reach the top of the mountain. And they also wanted to earn more money by taxing the new professional teams. They did, but teams didn't have the same luck and they were dissapearing in a few years.
What LEB Is Today
LEB teams had the same problem that ACB teams had and have today, but they had fewer supporters and couldn't outlive their economic problems: Los Barrios, La Palma, Huelva, Lleida, León, Sant Josep, Alicante, Menorca…they all disappeared. FEB points to ACB as the guilty party in this problem because most of the teams who went out of business had recent ACB pasts, but had tried to hide the significance of their financial woes.
As we said before, in only five years, LEB lost 32 professional teams (50 to 18). They closed LEB Bronze because they didn't have teams which wanted to participate. LEB Gold has 14 teams (18 two years ago). Half of the teams in LEB Gold had €100,000  budget to build a roster (around €12,000 per player). Last week, Joan Riera (CB Melilla, LEB Gold Team) confirmed this fact in his Twitter account.
Teams and players feel lonely in this situation. In the last two years, not a single team could promote to ACB because of money problems. Two of them even disappeared after winning a place in ACB (Alicante and Menorca).
"Método FEB" & Youth Competitions
FEB has a very practical discourse: "Winning. Whatever it takes."  Spain is one of the most successful national teams in youth competitions over the last ten years. However, many experts think that they aren't working as good as they say. One example is that not many young guys reach senior National Team lately.
Anyway, if you ask something related to this to someone who work for FEB, he would say to you that medals are good and the "Método FEB" (Método=Method) is working. They invented a word to define what a Basketball Federation is supposed to do. Actually, they take advantage of what ACB/LEB/EBA teams do during the year and sell it in summer when they get a medal. Here is where they do "whatever it takes": they use professional defensive and offensive systems, they put players in positions where they might be able to contribute in the present, but where they'll never play as a pro. For the FEB, it is more important to win a medal than develop a player.
If FEB were interested in youth players they'd make a league for players from 18-to-22-years-old who had problems transitioning to the pros. This is something that most European leagues had. The result of this problem is that a lot of Spanish youth talent is making overseas to keep studying and playing basketball in USA. Juan Cobos has tracked the migration of Spanish talent to US soil at Eurohopes for several years now.  And next season Sebas Sáiz, one of the top prospects in Spanish basketball, will play for Ole Miss.
Deconstructing José Luis Sáez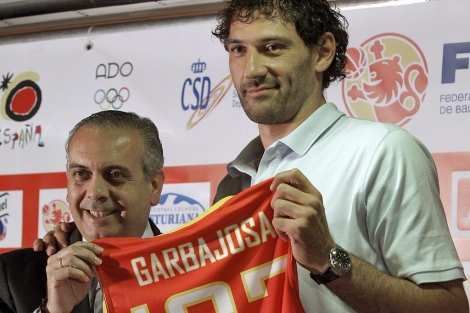 He was THE GUY in the FEB Office. He got the 2014 World Cup of Basketball and EuroBasket 2007 for Spain. He also managed to convince most of the NBA guys to play every summer. If you are looking for someone to give a prize, that guy is José Luis Sáez.
He is a very controversial character. He always say what he wants and he doesn't care about consequences. He believes a lot in what he's doing. He had a lot of problems with very important people like Alejandro Blanco (Spanish Olympic Committee's President). He also is a Master Networker: Media loves him and they always have good words for him. They also hide FEB problems (what we've talked before in this article). Maybe, his main feature is that he loves to be in a leading role. He is always on the FEB website, where he also writes a column to express what he wants.
However, he also has some bad qualities. He is a bit fancy and he has done things that people and clubs didn't like. On one hand, he gave a €15,000 bonus to each player and member of the coaching staff that won the 2011 FIBA U20 Championships in Bilbao; meanwhile, teams were asking for help because they couldn't afford to stay in business. On the other had, he took a picture with two players of Women Basketball team who won EB 2013 where they were smoking a cigar and holding a big drink. Teams didn't like this behaviour and he didn't seem affected at all.