By: Slam / @euro_adventures
The Euroleague Top 16 was just this morning, giving us a prime opportunity to serve up some instant feedback and predictions on what went down. Freaknick chips in with his minimalistic analysis.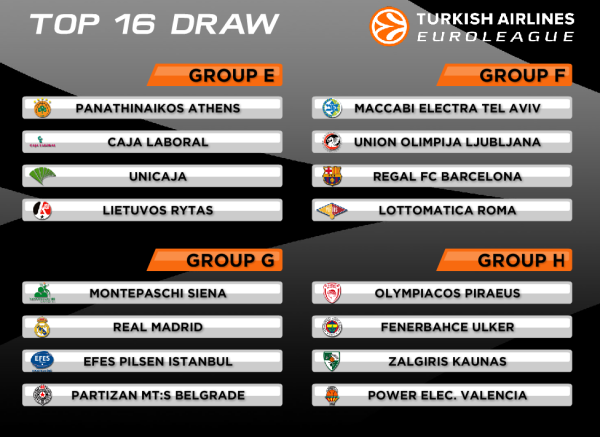 E

Panathinaikos Athens
Caja Laboral
Unicaja
Lietuvos Rytas
This group will be seen as the weakest group heading into Top 16 play.  Panathinaikos goes into the next round with real problems and injuries in the post.  All-Euroleague Center Aleks Maric missed most of regular season play and is still out hurt until April, while his counterpart at center Mike Batiste missed the last 2 games.  Panathinaikos will have to bang with 2 of the best bigs this season in Caja's Stanko Barac and Unicaja's Joel Freeland, so they better get healthy in a hurry.  Caja Laboral had one of the most inconsistent seasons so far with a 2 game win streak followed by 5 straight losses followed by 3 straight wins to close out the regular season.  Their starting lineup (Huertas-Logan-San Emeterio-Teletovic-Barac) is one of the most dangerous and offensively talented groups in the EL and very capable of scoring Caja into the top spot in this group.  If they can iron out their defensive woes, then Caja might be the team to beat in the group.
Unicaja had some tough injuries during the season but seem to be back to full health now.  Terrell McIntyre was one of those hurt guys and he has still yet to find a groove with the team so far.  Saul Blanco and Berni Rodriguez have played some of the best ball of their careers, and Unicaja needed all of it to make it to the Top 16.  If Unicaja is to have any chance to advance then McIntyre will have to be dominant, Blanco and Rodriguez will need to make a lot of shots, and Freeland will have to continue to be the best big in Europe.  Lietuvos Rytas struggled to make it here and they will struggle to stay, but they can cause teams a lot of problems with the hardworking post trio of Kenan Bajramovic, Jonas Valanciunas, and Milko Bjelica.
Slam's Advancers: Caja Laboral and Panathinaikos
Freaknick's Advancers: Caja Laboral and Panathinaikos

Maccabi Electra Tel Aviv
Union Olimpija Ljubljana
Regal FC Barcelona
Lottomatica Roma
Maccabi was by far the most dominant team this far in the competition and if Sofo is still able choose celery over cheeseburgers as a snack it should stay that way.  Depending on how Milan Macvan is able to fit into this offense might be the key to their championship aspirations.  Union Olimpija and Barcelona will make a very interesting duel for the next playoff spot.  Union is probably the weakest of the #2 seeds while Barcelona is definitely the strongest of the #3 seeds.  Maccabi and Barcelona are probably the 2 teams heading into the draw that Union were trying to avoid and now they have to play each twice.  Barcelona even finished with 1 more win than Union in the regular season and now with Ricky Rubio and Juan Carlos Navarro back healthy and Pete Mickeal coming back soon they should be back to championship form.  Union won only 1 road game this season and if they have any chance of making the playoffs they will have to win in someone else's house.  Lottomatica Roma rounds out the group with a team that can explode offensively but rely too heavily on point guard Darius Washington Jr.
Slam's Advancers: Maccabi Electra and Regal FC Barcelona
Freaknick's Advancers: Maccabi Electra and Regal FC Barcelona

Montepaschi Siena
Real Madrid
Efes Pilsen Istanbul
Partizan mt:s Belgrade
This is the toughest group of the Top 16, with every team having a shot at advancing.  In a weird twist every team but Partizan was in Group F of the Top 16 last year with Siena and Madrid advancing to the playoffs.  Siena just crushed teams in the 2nd half of the season and they were doing it on the offensive side of the ball.  Bo McCalebb-Ksistof Lavrinovic have been one of the best scoring inside-outside combos on the continent, making it tough for anyone to defend them.  With a high powered offense this season to match this team's always gritty defense makes them close to impossible to not advance.  Real Madrid really hasn't played its best yet this season.  Sergio Llull is the only guy on the team averaging double digits, and eventually Madrid will need to get their offense straightened out if they want to continue playing.  Ante Tomic, D'Or Fischer, and Felipe Reyes are all talented enough to be All-Euroleaguers but they haven't been able to play that way together.  With Pablo Prigioni getting back to being the floor general of this team he'll have to keep Llull scoring and get the big men to play more in sync.
Efes Pilsen has won all their home games and lost all their road games so far, not something the Top 16 is kind to.  Igor Rakocevic is the most deadly shooter in this group but when it comes down to having to win in Madrid or Siena to advance, they just don't have the toughness to pull through.  Partizan will be close to impossible to beat at home with their crazy crowd, but with James Gist and Jan Vesely being the only viable offensive options of late, that will probably not be enough to make it through the group.  Partizan has been in this position before (last year) and they always feed off of a no one believes in us mentality, so I wouldn't totally count them out.  It will be tough for Partizan to advance, but they may hold the key to the group as any team that can win in Pionir Arena could have a fast track to the playoffs.
Slam's Advancers: Montepaschi Siena and Real Madrid
Freaknick's Advancers: Montepaschi Siena and Real Madrid

Olympiacos Piraeus
Fenerbahçe Ülker
Zalgiris Kaunas
Power Electronics Valencia
Olympiacos has the most devastating back court in the league and they control the game on you.  With their experience and MVP Milos Teodosic still taking and making big shots, it will be tough for anyone to knock them out in this round.  FB Ulker is 100% reliant on Roko Ukic.  Ukic has been maybe the best point guard in Europe this season, but he can't do it all himself.  Knowing this Ulker decided to go out and get legendary player Sarunas Jasikevicius to shore up their back court.  Between Saras, Marko Tomas, and Tarence Kinsey one will have to step up their scoring big time if they want to win the close games they need to make the playoffs.
This actually seems like a fair draw for Zalgiris, with advancement possible if things go the right way.  The problem is that the Lithuanians have lost 4 of 5 and given up over 90 points in their last 2 losses.  With rumors swirling that center Mirza Begic might be moving to Madrid, Zalgiris is not in a groove you would like heading into the next round.  Valencia started the season with a heap of injuries but has been playing as strong as any team in the Euroleague the 2nd half of the regular season.  They have won 4 of their last 5 games, 3 of those wins against Top 16 participants.  They have the guards to stay in a shooting fest with you but the real key to making a playoff run is the play of Dusko Savanovic and Victor Claver, who can both change games with their unique inside-outside ability.
Slam's Advancers: Olympiacos Piraeus and Power Electronics Valencia
Freaknick's Advancers: Olympiacos Piraeus and Fenerbahçe Ülker