By: Jordan White / @jordanswhite
The NBA draft means something different for nearly every team. For some, it's the chance to get that one missing piece of the championship puzzle, while for others it symbolizes a fresh start, with a brand new star to represent the reborn team. For the Bobcats, this past draft was the opportunity to continue their arduous and seemingly endless rebuilding process by adding some key young players, namely, Bismack Biyombo.
As I said in my season preview, Biyombo was drafted to be the defensive lynchpin of the Bobcats. Apparently, I was wrong, because it seems as if Biyombo was drafted to ride the bench. Biyombo has yet to play more than 25 minutes in a single game this season, despite numerous blowout losses.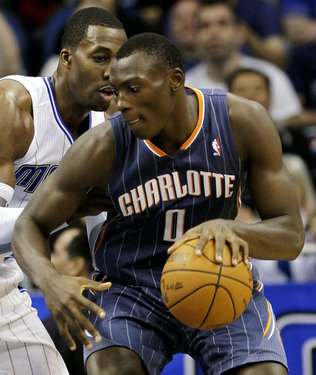 It's not as if he hasn't produced when he gets time on the floor, either. Biyombo has recorded eight games with multiple blocks, and has scored in double-digits twice. That last number may not seem that impressive, but considering his offensive game was thought to be at the level of fellow Bobcat DeSagana Diop, it's definitely a welcome surprise.
That isn't to say that Biyombo isn't still a work in progress, or that he's a perfect player; he's far from it.
In fact, Biyombo's plus/minus is the second worst on the entire team, ahead of only Eduardo Najera. While on the court, Biyombo is a -19.8 and his net plus/minus is -10.9. He's also miserable from the foul line, shooting 43% at the stripe. These are all things that Biyombo can improve however, if he's given the minutes.
If the Bobcats were even in the background of the playoff picture, then not playing Biyombo would be excusable. But let's face it: this team is awful. They compete with the Washington Wizards for the title of "worst team" on a night-to-night basis, and often times win that dubious battle.
So why not play Biyombo?
One of the biggest knocks on him coming into the draft was how underdeveloped his game was, and judging by the previously listed negatives, this is a perception that still largely holds true. But the whole point of a project player is to develop them, and the Bobcats, in the midst of a lost season, have the perfect chance to give Biyombo as much real-game experience as he can take. It won't be pretty, and he'll absolutely take his bumps along the way, but that's all part of the learning process.
The Bobcats have nothing more to lose (though it wouldn't surprise me if they somehow found a way to do so). Even if Biyombo is only marginally better than Diop, that's still better than this:
Yuck.
Jordan White writes Ballingual weekly for Euroleague Adventures. Follow Jordan on Twitter.