By: Freaknick
1995 was a good year. Atlanta was celebrating the Braves' World Series victory while gearing up for the Summer Olympics and let's face it: first grade is about as awesome as the finger painting that makes it famous. But while I was inhaling pudding and sucking down juice boxes, the rest of the world was struggling to find representation in the first round of the NBA draft. Fresh off a championship with UCLA, Czech-born Jiri Zidek (which obviously translates to 'George' in English) went to the Hornets with the 22nd pick, but his time in America kept him from truly carrying the international torch. So it wasn't until the Bulls drafted Jordan's protege Dragan Tarlac from Olympiacos that a Euro flew off the board at number 31. Dejan Bodiroga and Eurelijus Zukauskas were nabbed in the 50's and an NCAA-centric draft came to a close.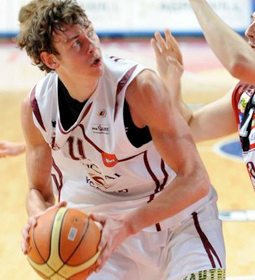 And there has never been a 100% American first round since.
Between 1996 and 2009 there have been 61 foreign first rounders in all, with a high of 8 in the famed 2003 draft class led by LeBron, Melo, Wade, Bosh and, um…Darko. In fact, only in 1997 (Australian Chris Anstey) and 1999 (Frederick Weis of France and Andrei Kirilenko of Russia) were there fewer than four guys announced in the first cycle of selections. And just as the Braves have positioned themselves for another World Series run, Donatas Motiejunas has brought us one step closer to a '95 revival. ESPN's Chad Ford writes that Motiejunas will yank his name out of the hat before the June 15 withdrawal deadline for international players under the age of 22. His agent Herb Rudoy released the following statement:
"Donatas really felt like he needed another year of international ball before he was ready for the NBA," Rudoy said. "He wants to be ready to come in and contribute right away and the feedback we got from the NBA suggested that as his body matures, he'll get there. I fully expect he'll be in the NBA draft for sure next year."
Well if he wants to "come in and contribute right away" maybe Benetton should gear up for two more years of Motiejunas. While that obviously won't happen, the kid is 19 years old and despite conspicuous talent—smooth lefty stroke, great length, disproportionate athleticism for his size—he's also got some rim-sized holes in his game; he's weak, he's not as comfortable with contact as he should be and his handles/defense aren't where they'll need to be if he wants to go up against Caron Butler one night, Gerald Wallace the next.
We had Motiejunas slotted at #12 to the Grizzlies in our mock draft podcast and figured his range would be anywhere from 9-15, but considering he was projected as a top-5 pick across the board less than a year ago I suppose Rudoy wanted to stop the slide and regenerate buzz in Treviso, Italy.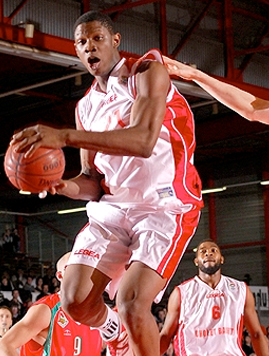 And if my foresight is to be considered reliable (a laughable notion), Motiejunas joins Jan Vesely—who also shocked the hooposphere by abstaining from the draft—in a 2011 draft class that should be weaker than its predecessor, especially at the small/power forward spots. Only hours after the announcement became official, both NBADraft.net and Draft Express had shaken up their mock drafts and moved Motiejunas out of 2010's mid-teens and into the 6th position for next year. That could easily turn into 26, but it sounds pretty for now so we'll run with it.
Now that we can safely assume a foreign-free lottery, Kevin Serraphin 's left as Europe's last great hope for a first round lock. That is, if teams aren't scared off by a balky knee that will keep him out of the pre-draft EuroCamp in Treviso. Considering Kevin might need a year to marinate—whether on an NBA bench or French hardwood—the injury might not affect his stock much at all, especially if he can secure a promise from a team with a top 20 pick.
But what if Seraphin goes the way of Jan and Donatas and decides David Stern can wait? Will Nemanja Bjelica, Paulo Prestes or Miroslav Radujlica step into that role? Yes, mainly because Christian Eyenga exists. Ever since the newly jobless Danny Ferry made that call last year, I've taken the Sandra Bullock vow never to be blindsided again, so I'm ready for whatever. Be it Robin Benzing or Ryan Richards, Pablo Aguilar or Aleksey Shved, I'll be prepared.
But I could still really go for some pudding.