By Rob Scott / @robscott33
Mario Hezonja has been one of the most talked about prospects in Europe since 2011, when he was 16 years old. He won the NIJT with KK Zagreb and the MVP and gold medal in the FIBA under-16 European Championships with Croatia. Since then, he made a prestige move to FC Barcelona but his career trajectory has not continued on a totally upward slant.
Going to one of the elite teams in Europe at age 17 is always a risk for a young player, even one as precocious as Hezonja. While NIJT and national teammate Dario Šarić is winning Euroleague's MVP for November, Hezonja has appeared sparingly. A knockout athlete, skilled ball handler, a pure scorer of a mould rarely seen in European hoops, he would be playing 35 minutes a game in college. On a lesser European team he would at least be in the rotation, developing in the public eye, offering everyone the chance to marvel at his talents.
This has been a source of frustration for those who see non-NBA basketball purely as a showroom for draft prospects. A flotilla of NBA scouts have attended Barcelona games only to leave with detailed notes on Mario's posture on the bench, the accuracy and timing of his post-huddle high fives.
Hopefully for their own sake some were in in attendance last week at Palau Blaugrana to see Mario play 22 minutes incluing most of the fourth quarter of a game that came down to the last few possessions: FC Barcelona's 84-80 victory over EA7 Emporio Armani Milano. They would have seen him drop 13 points including 2-of-4 from behind the arc. That and a devastating throwdown over Shawn James. That dunk might have been the moment - if player highlights were really Euroleague's 'thing' - that announced the explosion of his career at this level. That is, if he wasn't playing on the deepest roster in European basketball, and for a coach that values one thing above all else - defense.
But before all the bad cop stuff, let's look at that burst of speed and violent explosion all over a guy who used to be the continent's most feared shot blocker. Mario hovers round an Ante Tomic screen, and the centre rolls over towards the left wing. James momentarily backpedals a tad too far towards Tomic. Hezonja darts through the gap and does unseemly things to the rim. That's the impulsive, aggressive scoring that will get him drafted this summer. That's the me-first attitude that's probably needed to succeed in the NBA. All of the promise of Mario, distilled into one brief action.
He also confidently drained a couple of threes, and his stroke looked smoother than it sometimes did at the youth level. Offensively, he can still be selfish: one transition play saw him head straight down the lane only to find a big body blocking his way. He threw a bail-out pass towards the wing, straight to a Milano player, and it's that tunnel vision that is likely to test Xavi Pascual's patience. But that defense, oh boy, the defense. We're about to look at a whole bunch of reasons why the moody Catalan on the sideline would have no problem doing without Hezonja at all.
Some players have great defensive instincts. Some don't, but work hard within a team structure to cover that up. It's not like Pascual is a defensive zealot - neither Macej Lampe nor Boki Nachbar will be winning any prizes for D'ing up, but they at least pay attention and move their feet as best they can. The first thing that jumps about with Mario's approach to defense is he'd much rather just not do it all. Look at the image below, and you'll see four guys wearing blue and red in a defensive stance, and a moody one in the corner wearing #8. Spot the difference.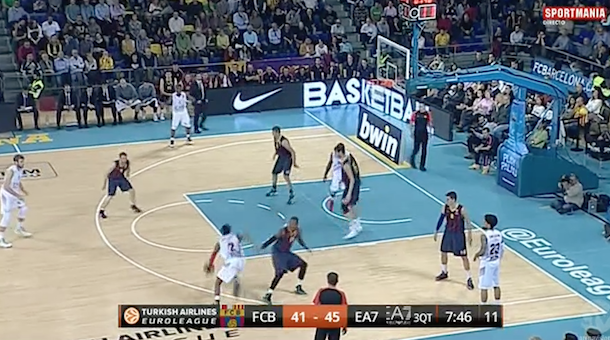 It isn't that this picture in isolation is a 'gotcha' moment, more that it's a demonstration of his total lack of engagement when the other team has the ball. Hezonja kinda floats around his man in off-ball situations, flat footed and lethargic. But it's guarding the ball handler where he really struggled against Milano. He didn't so much take the long route round a ball-screen as buy an Inter-Rail ticket for the journey. That led to an open layup on more than one occasion, something Pascual won't tolerate on a nightly basis.
Another red flag the size of this one can be seen in the image below. The blurry figure on the left is young Mario speeding down the sideline. Samardo Samuels has shot the ball from the corner Mario has just vacated, and the ball hasn't even hit the rim yet. The captions should be self-explanatory.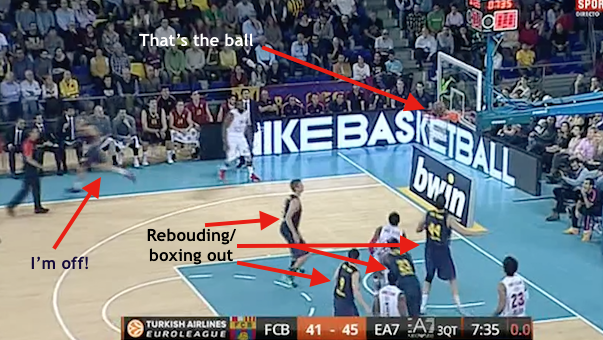 Perhaps that's exactly what Pascual told him to do? Somehow I doubt it. This was Hezonja's fourth appearance in Euroleague this season, the first of significant minutes. By leaving him in for the last seven minutes of the game, Pascual appeared to be giving him a chance to sink or swim - when you head into a game like this with a 6-0 record you can take some chances. But the lack of both natural instinct and willing application on the defensive end will surely see him back on the bench when the games really start to matter. NBA scouts be damned.
It is tempting to suspect that Mario knows his destiny is in the NBA, and that he'll start trying on defense when he gets there. It's not like he can't make defensive plays when he wants to, as Euroleague's Block of the Night video shows. He may find that NBA teams, whilst looking for the kind of tools and scorer's mentality he has, actually give a damn about body language at this stage. Maybe he's watched all those James Harden videos and taken them as a how-to guide? The word on the inside is that he's a Lottery pick no matter what. The one explanation that makes sense is that he has been told - or believes - that it's a lock.
Pascual, Pleiss and punishment
Talking of banishing guys to the bench, Tibor Pleiss played only three minutes either side of the first quarter break. The highlight of his night was draining a ludicrous fallaway turnaround three, mere milliseconds the wrong side of the first period buzzer. Pleiss hedged out hard, maybe a little too hard on a pick and roll resulting in an open three, then he closed out a little slow on Samuels pick and pop. That was enough for Pascual, and he never returned.
The fact that Macej Lampe came in to take his place in the rotation shows the doghouse door is always slightly ajar.  It also took Pascual a couple of years to trust Marcelinho Huertas, and there's time for him to come round on Pleiss. But it's certainly a shame to see the second-best centre in the ACB stuck to the bench, especially when he plays on the same team as the best.
This is where Barcelona are in a privileged position, being able to choose from an abundance of elite players who they have picked off from rival, mainly Spanish teams. Huertas, Olseon, Lampe, Pleiss, Doellman, Abrines, Satoransky…. OK we won't count Tomic coming from Real Madrid. The depth of talent taken from the next level of ACB teams, that Valencia / Unicaja / Baskonia tier, is frightening.
It might be galling to see Barcelona hoarding this much talent, but one thing is certain: Xavi Pascual doesn't care who you or I would rather see in his rotation. Nor should he.