Paul Nilsen is a part-time freelance basketball journalist and addict (mainly basketball) who writes for fibaeurope.com and has his own site at gbbasketball.net. In between balancing a full time job and a girlfriend whose patience is wearing thin, Paul can be found somewhere near a basketball court writing about anything from Eurobasket to U16 women.  Paul can be contacted at [email protected].
Well, Paul, maybe your girlfriend's patience is running thin because you're spending too much time with U16 girls.  Sorry. Couldn't resist.  In Paul's Other Group A Preview on Eurobasket2009.org (Part One here and Part Two there), he picked his sleepers, X-Factors, and keys to success.  That's all well and good, but Freaknick's mind has once again wandered to the really important queries, like could Sofoklis Shorstanitis beat up Andreas Glyniadakis? Enlighten us, Mr. Nilsen.
Freaknick: 23-year-old Damir Markota and 22-year-old Ante Tomic.  The talent has always been there, but the results have been a bit spotty.  If FIBA told Croatia that they could use only one moving forward and revoke the passport of the other, who would get the boot?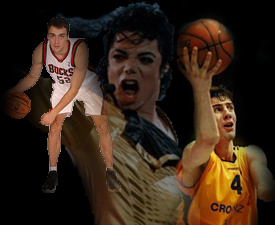 Paul Nilsen: Well to be fair Damir is probably more adept at getting the boot after a chequered career in some respects although he might have found a home in Bilbao. Tomic meanwhile is a player I like a lot, but in any such basketball situation there is only one way to solve it, like any two guys would anywhere in the world: Simply to put the passports down on the ground and have a shoot-out on some court downtown. I also think that since Croatia are now genuine medal contenders, the ability to have a good celebration should they get a medal is also a big factor. Maybe out of respect for the late and great Michael Jackson, a moonwalk to the podium contest ahead of Katowice could help decide. Failing that just choose Tomic because I think Markota might be injured anyway and that is no joke trying to do a moonwalk when not fully fit.
FN: More likely scenario: A) Mario Kasun gets another tattoo before the conclusion of Eurobasket? B) FYR of Macedonia leaves Eurobasket without a win?
PN: Option C is probably the most likely and that is the Croatian 'Super Mario' managed to get himself injured ahead of the big tip-off although if I had to choose the most likely of the two, I would go for the tattoo. I quite like the idea of Kasun having to get a tattoo as a bet with the Macedonian players. Basically if they get a win then Kasun has to get a tattoo of Jeremiah 'Air' Massey on his back. I think you are actually being a bit harsh on Macedonia, I think they might surprise people. After all, who tipped Russia to get gold in 2007? Well, my friend tried to say he tipped them but actually he got them in the draw we had for money when everyone were randomly given a team out of an envelope. I remember him ripping up his Russia ticket in disgust before the tournament conveniently forgetting about it when they won. The lucky *****! Though I am not saying I exactly want to pick FYR of Macedonia out of the envelope this time. I am not that confident in them!
FN: Let's say the basketball gets boring.  They turn the Spodek Arena in Katowice into a boxing venue.  In one corner, the bruising bulkiness of Sofoklis Schortsanitis, in the other Andreas Glyniadakis and his orangutan-like reach.  In a scored boxing match, who wins and in how many rounds?
PN: Well, this question might have been a little different a few months ago because it might have been Sumo versus boxing before 'Big Sofo' lost all of his weight. Someone was telling me about it the other day and so exaggerating it was unbelievable. In boxing terms, they were trying to make out he was like a flyweight. I mean come on, some freakin' fly that would have to be. I think he has went down to light heavyweight and mentioning an Orang Utan is a bit unfair because I used to have nightmares about them after watching 'Every which way but loose' when I was younger. I didn't appreciate Clyde sticking his tongue out and maybe that is a strategy Glyniadkis could use. I don't see it going many rounds – bit like Great Britain in Eurobasket (much to my annoyance.)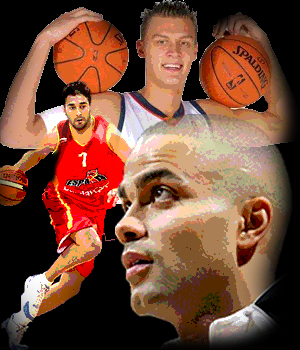 FN: If you were the coach of "Nilsen's All-Stars", which 5 guys would you count on to get you to the medal stand?
PN: What is this? A serious question? I get enough of those at FIBA. You wouldn't get me anywhere near the medal stand by the way. I would probably be stood with a gold medal around my neck so disappointed wishing it was actually one of those round gold medal chocolates from Starbucks (I do love chocolate). If I was choosing five guys I would probably go for Parker (in case his missus turned up to celebrate with us), Navarro at the two spot, Biedrins at center and I will have to think on about my wing guys / forwards. I think this is becoming the 'X Factor' position in these Championships and consequently I can't just throw in a couple of random names.
FN: My man Slam is hopeful that Zvika Sherf will be calling him in the next few days to recruit him as the newest member of Israeli's shallow backcourt.  Should he go ahead and book his ticket to Poland?
PN: Well only if you are happy to make an early exit from the tournament. Someone told me that rooms for the Finals stages in Katowice are like gold dust now. So, unless you are happy staying in a tent, I would advise Slam to just be happy staying home. After all, I doubt he would be able to hammer those tent pegs into the ground in the middle of all Katowice. You also failed to mention Israel's shallow frontcourt by the way. Their bench at Eurobasket is apparently going to be pretty good quality though – yes, you can re-assure Slam the bench will definitely be constructed from the finest and mot durable plastic known to man.