By: Gus Elvin / @gpelvin
These two take very different routes to arrive at similar stat lines. One's a gritty defensive nightmare from Mexico, the other's a silky Argentinian with flash for days.
Both Jorge Gutierrez and Juan Fernandez have taken huge steps since they arrived on their respective campuses four years ago, and now have earned the right to lead their teams as seniors. So far, so good for both. But what's next for these two?
Let's get to it.
When you're done, check out all the Foreign Exchange profiles.
Jorge Gutierrez, California Golden Bears (Mexico)
6'3″ (191 m)  |  195 lbs (88 kg)  |  Point Guard 
Maybe pound for pound the toughest player in college hoops, over the last year and a half Jorge Gutierrez has blossomed from purely a defensive stopper into a First Team All-Pac 12 player. Gutierrez, a pesky on-the-ball defender is one of the most passionate and energetic players in the country and is the definition of a senior leader.
Not the most highly recruited guy coming out of high school, Gutierrez has worked for everything he's received both on the floor and off it, as he has overcome all odds on his way to stardom at Cal. Gutierrez grew up very poor in the town of Chihuahua, Mexico and plays with an unparalleled hunger and edge that is a product of his tough upbringing. Gutierrez is any coach's dream as he is fearless, leads by example and plays as hard as anyone in the country.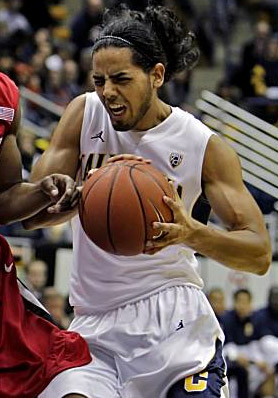 Last season as a junior Gutierrez broke out offensively as he developed an offensive game to go along with his defensive ability, which made him so much more valuable to Cal coach Mike Montgomery.
People took notice, and Gutierrez was the Pac-10 Defensive Player of the Year along with All-Pac 10 honors thanks to averages of 14.6 points, 2.8 rebounds, 4.5 assists and 1.6 steals.
Gutierrez has picked up where he left off, as the senior point guard has led Cal to a 16-5 record while averaging 14.3 points, 5 rebounds, 4.5 assists and 1.s steals. And in addition to playing his trademark lockdown defense, Gutierrez is also shooting a career best 46 percent from the field.
Still, the guard from Mexico means even more to Cal than his impressive statistics would indicate.
In terms of pro potential, Gutierrez will have a shot at the next level because of his on ball defending and recent offensive improvement. Right now Gutierrez is a fringe second round draft pick, but with a lot of basketball left, Gutierrez could fly off the board earlier in the second to a team in need of an on-ball nightmare.
I look at both Toney Douglass of the Knicks and Delonte West of the Mavericks as comparable NBA players. While Gutierrez is not as fluid offensively as West and Douglass were at this point in their careers, but his defensive ability bears a striking resemblance to the two college stars—especially Douglass, who was the ACC Defensive POY at Florida State in 2009.
His physical dimensions are similar to Douglass and West's as well, and his continued progress running the point means he'll get a chance to make some NBA team's training camp once his days as a Golden Bear are done.
Jorge Gutierrez is worth a watch as he as passionate, tough and energetic as any player we have in college basketball and his defensive pressure makes him one of the most feared defenders in all of college hoops.
Just ask the nation's leading scorer Damian Lillar (24.4 ppg) of Weber State, whom Gutierrez held to just 14 points and a miserable 4-17 shooting in a blowout Golden Bear win.
Juan Fernandez, Temple Owls (Argentina)
6'4″ (1.93 m)  |  180 lbs (82 kg)  |  Point Guard
A crafty point guard from Argentina, Fernandez has been a very good four-year player at Temple for Fran Dunphy. Fernandez,who followed fellow Argentine Pepe Sanchez to Temple, has helped the Owls to two Atlantic 10 titles and three NCAA Tournament appearances in his three years as a collegiate.
This season Fernandez leads Temple in assists at 4.1 per game and ranks third on the Owls in scoring at 11.8 points per game.
While not an explosive athlete, he is a top tier point guard at the college level because of his court vision and basketball IQ. This basketball IQ and craftiness help him make up for his lack of elite athleticism or strength and allow him to control games even when he is not scoring. Fernandez is a clever passer who like Dellavedova possesses a flair to his game that at times reminds people of Steve Nash and more frequently/fittingly, his predecessor Pepe Sanchez. Fernandez can make the flashy pass look easy at times and also can make a wide array of difficult shots which helps him compensate for his lack of athleticism and quickness.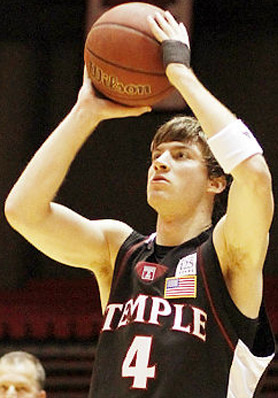 What Fernandez does possess is good height for a point guard at 6'4″, three-point shooting ability and great court vision. After a difficult offensive season as a junior Juan Fernandez looks to have rediscovered his outside stroke as he is shooting over 42 percent from three-point range this season up from a career low 33 percent a season ago.
Fernandez is a proven winner who has shown he is one of the better passers in America who can also beat you with a wide array of tricks to both score and setup his teammates. Fernandez may not look like much but his craftiness, basketball sense and vision make him a tough point guard to defend at the collegiate level.
In terms of next level potential Fernandez's game may not translate well. Despite his good height, his slight frame and lack of NBA caliber athleticism could prevent him from catching on with an NBA squad.
On a given night, he can dominate a game as a scorer and/or passer, but his inconsistency and tendency to disappear in games make him a tough player to project at the next level.
Fernandez will be a professional point guard for a long time because of smarts, passing ability and craftiness but I feel that his game may translate better to Europe than it does to the NBA. Fernandez certainly has some skills that will have him on NBA executives radars like his court vision and outside shooting but his lack of athleticism and spotty defense make him likely an undrafted free agent signing.
If I had to compare Fernandez to anyone I would compare him to Real Madrid's Sergio Rodriguez as he has decent height without the girth to go with it, is a crafty passer but lacks that legitimate burst great guards often have. To top it all off, he's a so-so defender.
And if Fernandez expects to end up piloting a high-level European club like Rodriguez, he'll have to take the same bumps and bruises first as he reins in a little bit of that creativity in exchange for a few more smart decisions.
Either way, Juan will make sure it's fun to watch.