By: Rob Scott / @robscott33
Now that the lockout's over, we've had some time to work out the Euroleague consequences. Well, at least the obvious ones.
There won't be any changes in Zeljko's Republic, ditto Barcelona, while CSKA, Maccabi and Real Madrid might have some things to work out. Further down the pecking order, Partizan will probably really, really miss Nikola Pekovic, but Nancy weren't going anywhere with Nicolas Batum anyway, ditto Milano with Gallinari.
So what do some of Europe's top teams need to put on their Christmas lists? This isn't the NBA, teams can't just trade for what they need, but transactions can and will happen. Already Alicante have parted with Singler and Euroleague strugglers Union Olimpija have offloaded Ben Woodside - though the exact manner of the decision probably differs depending on who you talk to. Some reports have Woodside leaving due to unpaid wages.
Highly paid players whose teams won't make the Top 16 might be available for contenders to snap up, and although the sums involved might have to be wince-incuding, money does talk. Of couse, it's more likely that the replacements would come from non-EL teams as in the case of Singler, where that big money would be even more tempting. It's unusual that Madrid have gone for a rookie in Singler, albeit one with more NCAA tournament experience than most. But look what that's done for Matt Howard in Piraeus.
Up and coming players like Gustavo Ayon at Fuenlabrada, Paul Davis at Cajasol Sevilla and Justin Doellman at Manresa may find themselves in demand, and that's just in the ACB. Somebody will be the equivalent of Esteban Batista last year, moving from middle of the pack to the Euroleague limelight.
So, what might some of the top teams be looking for following the end of the NBA's nuclear winter?
Real Madrid
Los Merengues were the first to respond and shuffle the pack following the NBA peace treaty - Serge Ibaka and Rudy Fernandez are out, Kyle Singler is in. Singler is probably intended to be a Fernandez replacement but actually his game is closest to Carlos Suarez's, scoring in the post a fair bit, as well as popping out to the three point line. He's patently not an Ibaka replacement either, nobody in Europe has the Thunder forward's athleticism or defensive disruptiveness. However, Ibaka didn't represent a threat on the block at all, and if Singler can exploit some mismatches to post his guy up, that could open up that element of their game. On the other hand, adding someone with even the semblance of a post game could just give them another excuse not to play Ante Tomic, but I like to stay optimistic here.
CSKA Moscow
There is no replacement for Kirilenko. None. Paradoxically, they have lost the best player but may be best served by doing nothing to replace him. The team is already deep, Viktor Khryapa might be able to do some of what AK47 did all over the floor, but the best scenario, unless an opportunity falls into their lap, is to regroup and move forward as a unit. Luckily they have time to work this out before the Top 16 in relative comfort.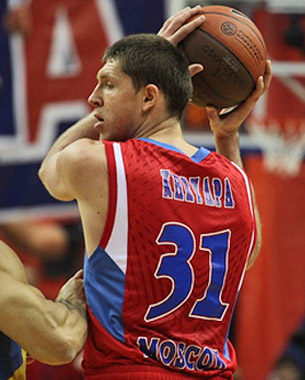 Caja Laboral
Kevin Seraphin was a qualified success in Vitoria. He often looked lost on defense, particularly on the pick and roll, but he was an effective scorer around the rim (74.1% close range FGs, thanks in-the-game.org) and with Milko Bjelica out and Joey Dorsey seemingly unable to stay fit, he'll be a big loss.
And instead of grabbing a ticket and waiting their turn, Dusko Ivanovic shouldered his way to the front of the line and picked out Montenegrin center Vladimir Golubovic, a 25-year-old seven-footer (2.12 m) who was averaging 7.9 points and 4.1 rebounds this season with Azovmash of the Ukrainian League. Not exactly eye-popping stats, but when the only guy  listed at 'Center' on your roster is Dejan Musli, every bucket and board helps.
Their other lockout rentals, Reggie Williams and Goran Dragic, won't really be missed, but for different reasons. In Williams' case it just seems that Ivanovic was unwilling to play him, and it was always a strange fit for Caja Laboral to recruit lockout rentals, given Dusko's lack of patience and the possibility for large-scale roster turnover, and it hasn't really paid off.
Dragic wasn't around long enough to have any lasting effect, but he is apparently thinking of going back for more next season, so there must be some kind of understanding there. It's big bodies that Baskonia needs - they would seem to be perfect suitors for a guy like Pops Mensah-Bonsu if he's available, but they already waived him for 'medical reasons' once so that's unlikely. The return of Macej Lampe will help, but they still need some more bulk upfront.
Maccabi Tel Aviv
Jordan Farmar has swapped the beautiful beaches of Tel Aviv for… New Jersey, and Maccabi needs a point guard. Preferably one who can score. No surprise then, that right here on ELA it was revealed that they're in talks with Spirou's Demond Mallet. That makes a lot of sense. What would also make sense is, oh, I don't know, playing Theo Papaloukas a bit more and letting Keith Langford take up some of the scoring slack. More options are never a bad thing though, and Mallet would fit in perfectly in Blatt's system, which isn't too dissimilar to Giovanni Bozzi's in Charleroi.
Montepaschi Siena
They haven't been affected at all by the lockout ending, just by Rimas Kaukenas' torn ACL, Ksistof Lavrinovic's bad back and Igor Rakocevic's slow start. Limited by Lega A rules to acquiring a homegrown player, unless they can cut a non-Italian, it looks like they will have to recruit again to make a repeat trip to the Final Four, after wiffing badly on DaJuan Summers in the off-season. Malik Hairston hasn't exactly been ripping it up for Milano, but he has definitely been missed in Siena. Last season they made an underrated pickup in Marko Jaric, who carried them through McCalebb's injury absence. Another scoring punch to go with Rakocevic (or replace him, if he doesn't step up soon) is vital. Unless they can pry an Italian passport holder away from somewhere, there could be cuts. David Moss and Shaun Stonerook are such integral parts, particularly defensively, that it may be Rakocevic feeling the pressure.
Rob Scott writes Switching Screens every Friday. Follow Mr. Scott on "The Twitter" at @robscott33.