By: Freaknick
Rudy Fernandez snipped the final strand of woven nylon and draped the net over his head.  With his arms lifted toward the ceiling, he smiled and joined his Spanish teammates in celebration.  Minutes later, he was announced to the All-Tournament Team along with his battery mate and Eurobasket MVP, Pau Gasol.  Not to be outdone, Juan Carlos Navarro then took his turn in the festivities, hoisting the trophy over his head before leveling it in front of his face for a passionate kiss.  For the first time since their 2006 World Championship, Los Chicos de Oro were golden once again.
Through all of the confetti and fanfare, the entire basketball world had been warned.  A European monster was growing in front of our eyes.  And while Spain basked in the moment, the baby beasts were dressed in Silver.
With an average age of 22.3 years, Serbia was easily the youngest team in the tourney.  After an opening day win against Spain, Serbia went on to play well beyond their years, using a core of youngsters to battle it out with the big boys.  Their inspired, team ball found them on the medal stand Sunday, and it's not tough to imagine them one step higher when 2011 rolls around.  Here's a quick look at the five guys who logged the most minutes in Eurobasket 2009: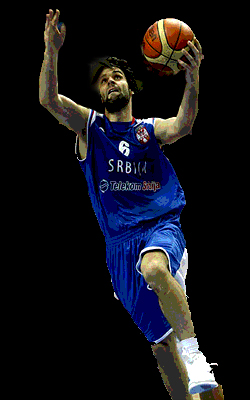 Milos Teodosic, 22: In a matchup with Slovenia which turned out to be the best game of Eurobasket, Teodosic and his 32 points shone the brightest.  Possession after possession, it was Teodosic who put Serbia on his shoulders.  Unfortunately, when Milos had an off game (see: Finals versus Spain), Serbia was without a fire starter.  Still, his 14 points and 5 assists per game landed him on the All-Tournament Team.
Nenad Krstic, 26: The NBA-er for the Thunder played with the resolve of somebody who's been there before. I guess that's the accelerated evolution of a "veteran leader" in his mid-twenties.
Novica Velickovic, 22: The 2009 Euroleague Rising Star continued his ascent in the Euro pecking order by averaging over 10 points per game.  If young players are always supposed to be in a rush, nobody told the patient Velickovic, who was as laid back as a rocking chair.
Milenko Tepic, 22: This was the guy who needed to be Plan B for Serbia, and he'll be encouraged to be Plan A come 2011.  He's too talented to play such passive basketball, and a year or two in a deep Panathinaikos backcourt might not help that.
Uros Tripkovic, 22: The guy can flat shoot (over 40% from three in the tournament).  He'll  be the man now in DKV Joventut and come 2011, Serbia will ask him to play a similar role on the perimeter.
Sprinkle this core with a dash of budding stars like 19-year-old big man Milan Macvan, and we could Continue Reading…
Read about it, Tweet about it.
Posted 4 days, 11 hours ago at 2:29 am. 1 comment