Paul Nilsen is a part-time freelance basketball journalist and addict (mainly basketball) who writes for fibaeurope.com and has his own site at gbbasketball.net. In between balancing a full time job and a girlfriend whose patience is wearing thin, Paul can be found somewhere near a basketball court writing about anything from Eurobasket to U16 women.  Paul can be contacted at [email protected].

So after shedding some light on Group A in the first edition of "Uncensored", we'll be skipping over the incomplete Group B and heading closer to home-or at least, closer to Paul's home-with Great Britain and the rest of Group C.  Let's get it.
Freaknick: So now that Rubio has a deal with Gillette, which team-mate is in greater need of a free razor and a clean shave: Marc Gasol for his face?  Or Jorge Garbajosa for his back?
Paul Nilsen: I think while Gillette is 'The Best A Man Can Get", I think in the face (no pun intended) of such a monumental challenge in terms of his two team-mates, Ricky would be better off being sponsored by an agricultural machinery company to trim down that lot! I mean come on, do you really think a single razor could stand up to such a hairy escapade of taking Gasol and Garbajosa to task? The real question is pretty simple though: Why would Gillette sponsor Ricky who clearly hasn't even started shaving yet. Has he? Did I miss that? I don't know how, because I mut have seen his face a million times this summer during the tedious soap opera of where he is meant to be playing next year. My money is that whatever happens he won't have to move from his current house.
Related article: "How Ricky Rubio Can Make $6.6 Million in a Week"
FN: Of the three Serbian stars who left Partizan this year (Velickovic, Tripkovic, Tepic), who has the best chance of being homesick in this coming season?

PN: Greece and Serbia are apparently the best of buddies which is something I wasn't aware of so Panathinaikos should make Tepic pretty welcome and he should do well – even playing for the Euroleague champs where he will have to fight for court time like everyone else. In fact all three will do pretty well and will probably spend the next ten years excelling away from their homeland. I really do like Tepic as he is tough and smart, much like Velickovic who, as one of the first signings by Messina looks nailed on to have a good time.  Of course if Velickovic did struggle, Real have the longest bench in the history of basketball so if he falls out of favour he may have to be very good at the game 'musical chairs' to even get a place somewhere along the line.
DKV Joventut are a perimeter shooting team under Sito Alonso and that will suit Tripkovic just great so he will probably be okay too. It might just come down to the simple things. I googled Serbian restaurants in Madrid, Badalona and Athens without too much success so maybe they will all feel a little homesick but I guess that none of the guys partake in the consumption of Serbian Slivovitz (look it up  you lazy people), so they will probably avoid feeling lonely. Besides, I hear the chicas and beach parties in Greece and Spain are up there with the best. Good luck to Velickovic finding a beach anywhere near Madrid!
FN: If your boys from Great Britain shock the world and bring home the gold, how much would a game-worn, Pops Mensah-Bonsu headband go for on eBay?
PN: If my boys bring home competitive single figure losses in Warsaw it would possibly shock the world. After all, some people seem shocked that we even play basketball and there seems to be some resentment from others who feel that they have a god given right to look down on GB's achievements because they see themselves as being a 'real' basketball nation. The misconceptions are laughable. Some people continue sneering at anything to do with British basketball and are so condescending it is driving me demented. No country has the right to be in the elite whatever their history. Hard work, talent and application is required and whichever team prevails over a number of games deserves their place. I think Great Britain are viewed in parts of Europe as the equivalent of some embarrassing relative who is gate-crashing a party they weren't invited to. However there is more to Britain (well, Scotland) than eatingdeep fried Mars chocolate bars. Yes, basketball is one of the most played games in the country….. after football, drinking and fighting . Seriously though, it is honestly the second or third most played game and that can be backed up by official stats!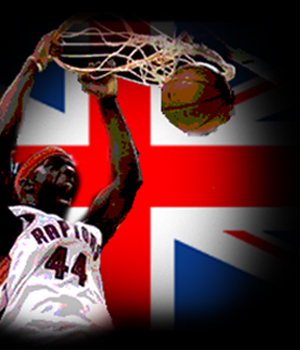 As for Pops and the headband, he has enough 'hangers-on' around the British game continually kissing his ass (not his fault of course) that I suspect they might get on their knees and beg for it before it gets anywhere near eBay. Being a more of a traditionalist I would rather get my hands on a pint of beer and chat with either captain Andrew Sullivan or maybe the irrepressible Nate Reinking and talk about memories from the Division B days. Those guys were there from the start and they are the real heroes in my view although I do think Pops is a great player and terrific character on and off the court.
And get serious - gold? I would just settle for some respect. It is a shame Deng, Gordon and Azubuike won't be there to help us sneak into the second round but I repeat the fact that if you had told me when I was standing at EuroBasket 2007, GB would be in Poland I would have had to have called you insane.
FN: So, I guess it's time to address the elephant in the room: who did Berni Rodriguez have to sleep with to make the Spanish team?
PN: Come on, don't ever beat up on any player from my beloved Unicaja and secondly every team needs a bit of glue. I bet you guys just look at a Ferrari and swoon, forgetting about all the hard work happening under the hood of the car. Well BR provides some real 'evo-stick' for club and country and I actually think he is very underrated. I am sure the likes of Hernandez, Renses and Scariolo can't all be wrong. Rodriguez is actually going to miss Eurobasket due to his injury problem and so this particular elephant has left the room. My friend who is looking over my shoulder while writing this has just asked that if Rodriguez did have to sleep with someone as you suggest, do we think his absence from Eurobasket is actually due to excessive carpet burns? Something of course, I couldn't possibly comment on!
Read about it, Tweet about it.
Tags: Andrew Sullivan, Berni Rodriguez, Eurobasket 2009 Group C, Jorge Garbajosa hairy, Marc Gasol, Milenko Tepic Panathinaikos, Nate Reinking, Novica Velickovic Real Madrid, Partizan, Pops Mensah-Bonsu Eurobasket, Ricky Rubio Gillette, Serbian basketball, Serbian Slivovitz, Sito Alonso, Uros Tripkovic DKV Joventut