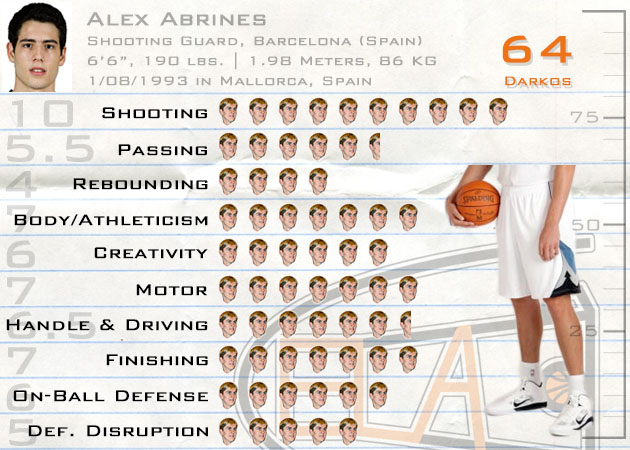 Shooting: A very confident shooter when given minutes this year.  Abrines is smooth, smooth, and smoother.  He will pop it wide-open or with a hand in his face.  Off the dribble or off the kick.  Although he can force some bad shots, the stroke is there, he just needs more opportunity to let it grow.
Handle and Driving: Even though he'll be a designated shooter at times in the NBA, Abrines has the ability to take people off the bounce.  He has a good handle and can even initiate some half court offense for a team but his quickness will be relatively average at the next level and getting all the way to the basket off the drive might be a problem.  He has a bunch of different shots in the arsenal and can sky to jam balls home, so finishing shouldn't be a problem, but working on his dribble driving will be a priority.
On-Ball Defense: With the three and D becoming a very popular role for players, Abrines will really have to tighten up his perimeter peskiness.  He can move fairly quickly side to side and should be able to stay in front of other guards, but will have real problems against more physical/stronger wings.  With the jumper already locked down teams will need to see that he can play strong team defense to go along with the J.
.GIF Basket
If Diamantidis had a fat Nike deal, they'd confiscate this .GIF.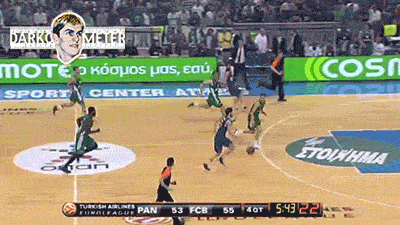 Itchy Trigger Finger Like…
…Juan Carlos Navarro, Marcus Thornton, Jaycee Carroll.

Guest Scout
We tabbed local scouts who have been following particular prospects closely all year to comment on their development this season.
Jon de la Presa, Spanish Basketball Writer at ACB.com and Elsewhere
Abrines started in a slow mood this season, which is quite logical to expect when he signed a contract with a great team such as Barça with a coach (Xavi Pascual) who is not famous for taking risks and developing young players. Abrines hasn't improved anything during the year, just having a pair of good games in the last month of competition. There has been a problem of confidence.  Confidence that he had in Malaga, where he would have been the starting shooting guard. He needs minutes, if not, he's not going to develop properly because he's not that kind of player with that strong mind. Next step is to settle in the ACB League, prove that he can "steal" big minutes from stars like Navarro and make a big impact in the league.
Alex Abrines hasn't had a good year in Barcelona, and even within his own organization he is sometimes overshadowed by the rising and bright figure of the Croatian guard Mario Hezonja. Abrines should have stayed in Malaga, where he could've enhanced his game.  However, he's still a great player, with above average technical and athletic tools: Can shoot, can pass, can defend, can drive and finish like a beast. But it's a question of confidence, a question of a coach who believes in him, and restores the trust in himself that now seems to be damaged.