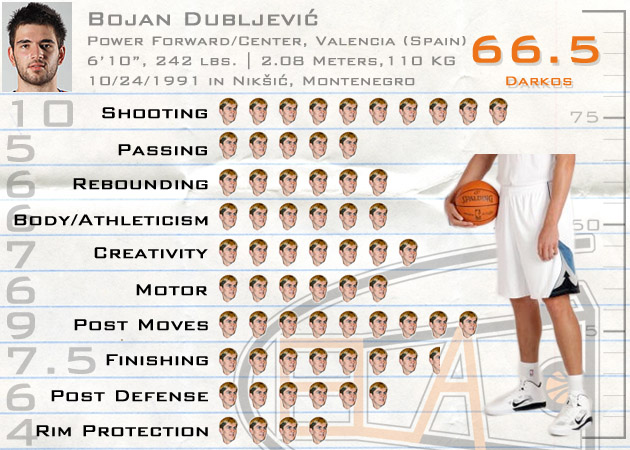 Shooting: Has incredible touch for big man.  A stretch five whose best skill is his jump shot.  He shot 47.4% from three in ACB competition this year, a startlingly high number for a center.  Dubljevic doesn't have a quick release or get much off the ground, he just has smooth mechanics and an incredibly soft touch.  Even posting up or releasing more one-handed style paint shots, Dubljevic shows solid touch.
Post Moves: Dubljevic does not move quickly and isn't that agile in side-to-side movements, but has really nice footwork.  His sturdy frame gets him good positioning and his footwork allows him the necessary movement to get off his shot.  Not a dynamic finisher deeper in the paint where tall, athletic, shot blockers roam; but instead makes more of living between the block and the mid-range where his soft touch makes a short jumper almost as effective as a lay-up.
Rim Protection: In a league where centers are asked to not only swat shots away but be a continual presence of doom for driving opponents, Dubljevic will struggle.  He has the strength to body up a back-to-the-basket big, but he'll have trouble against the more frequently existing, finishing, high-flying post player.
.GIF Basket
Breaks nose.  Finds mask.  Banks jumper.  All in a game's work.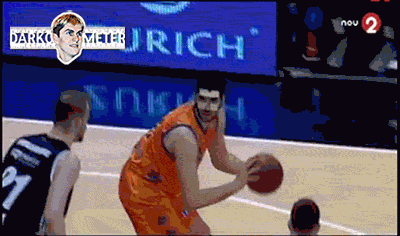 Big Man, Soft Touch. Like…
…Mehmet Okur, David Andersen, Ksistof Lavrinovic, Darjus Lavrinovic

Guest Scout
We tabbed local scouts who have been following particular prospects closely all year to comment on their development this season.
Alejandro Gonzalez, Director of Scouting at A+ Basketball
When evaluating a youngster jumping into the big scene, the highest expectation you can have is to see the kid doing exactly the same thing he has been doing for years…but now against the best pro players in the continent. It is not a minor accomplishment. At all. That is what Dubljevic has done this past season in Spain. Watching him play, you kind of feel like nothing changed, like you´re still watching that versatile, consistent guy producing at a high rate against U18 rivals or Adriatic League teams. A tricky déjà vu, because the environment definitely changed and, although the ACB is not the potent league it has been in recent years, it's still the most hostile and tough scenario in which to…well…to keep doing what you've done in less exigent places. Young players landing in elite competitions, especially in Spain, usually get a limited role, taking over specific duties and carrying small responsibility in early stages, as part of a learning curve while looking for their game and place in his new world. Dubljevic needed no transition, like nothing changed.
He "just" keeps doing his job. And that's really impressive.