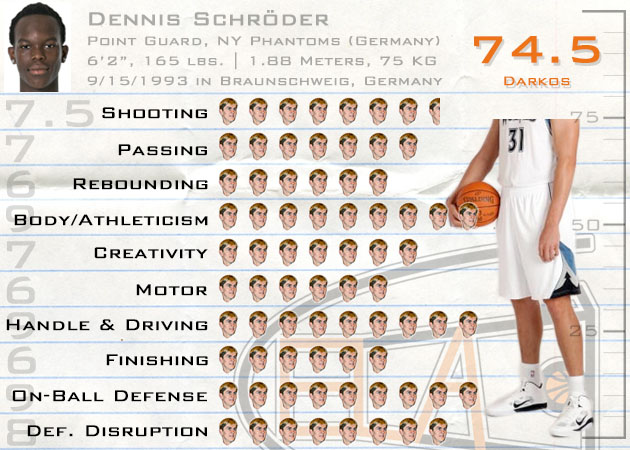 Body and Athleticism: Everything starts for Schröder (or Schroeder, as it's often written outside of Deutschland) with his body and athleticism.  At 6'1″ with attacking quickness and a 6'8″ wingspan he can push the ball off the drive and harass you on defense.  His arms are so long and his feet so quick that when he jumps on an opposing point after he crosses half court it's tough to either drive by or pass over/around him.
On-Ball Defense:Schroeder will be most helpful for a team, at least early on, on defense.  As mentioned his giant wingspan will not only be great for crowding an opposing point guard's vision but also for reaching in and picking his pocket.  Schroeder is quick enough to stay in front of most guards but will have trouble with the strength of bigger guards and those that try to initiate contact on the way to the rim.  But as far as closing down passing and driving lanes, Schroeder was born to do that.
Passing: Schroeder is not a big guard, and when he gets in the lane his finishing toolbox is pretty limited, but he is already a skilled passer.  He's solid at kicking out to shooters off the drive, post entry passes, and finding the roll or pop man off the pick.  But he still is not great at constantly keeping his teammates involved and seeing how his passes can move a defense.  He does have great poise up top, especially for his age, so it's not as though he gets frantic and reckless, as is the case with many young guards in his situation. The skills and vision are there, but he still needs to brush up on the intricacies of running the point.
.GIF Basket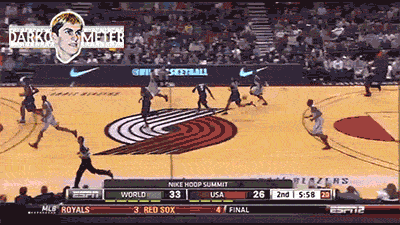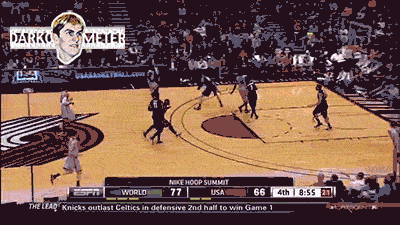 Top-of-Key Peskiness Like…
…Patrick Beverley and Darren Collison.

Guest Scout
We tabbed local scouts who have been following particular prospects closely all year to comment on their development this season.
Dave Hein, Editor-In-Chief at heinnews
Well, lots has been written on Schröder. Obviously athletic. Long arms, good defender. Reminds you of Rondo. Can hit the outside shot. Gets to the basket at will. Can finish as well. Mentally he has stabilized a lot this season. There were people out there wondering if he could get his head in order.  Having Ademola Okulaja as his agent helped him with that a lot. Took the game a lot more seriously and excelled at a high level in a strong league.
A lot of people might say he broke out at the Nike Hoop Summit (18 points, 9 assists) but I think it was a big breakout only for those who hand't seen him all season. He was a stud for much of the year, so really it didn't surprise me. Ademola has been a great influence on him. I was impressed that he automatically took over the responsbilty of the team, but not that surprised. He showed straight off he's not intimidated - which playing in the BBL helped.