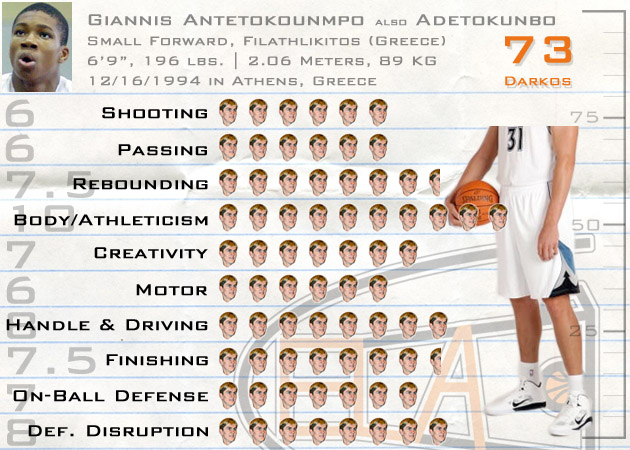 Body/Athleticism: Adetokunbo is one of the longest players you will ever see.  He adds to that big hands for terrific ball handling and a graceful gait when moving around the court, especially when he's got the ball.  When he drives to the basket, he seems to glide there with such long strides and smooth movements.  Adetokunbo looks the part with his long arms for disrupting on defense and executing low dribble moves, big hands for handling and catching, and agile movements for getting by defenders.  Still very weak and will be pushed around at times but strength will (hopefully) come more with age and a team's willingness to focus on it with him.
Handle and Driving: He looks to develop into a really strong dribble driver.  Such a tall frame with long arms leads to a deceptive handle that is hard to guard.  Also has great passing instincts for such a short time playing organized basketball.  Probably a stronger facilitator than overall scorer right now and does a good job of looking for open teammates off the bounce.  Very much an on-ball player right now as he doesn't have much of an idea how to play off the ball or space the court.
Defense: Extreme length is always helpful on defense for both guarding the ball and creating disruption (blocks, steals, deflections) off of it.  With his physical skills Adetokunbo looks to be strongest on the defensive end.  To able to reach his defensive potential Adetokunbo needs to add in the energy and smarts to go along with his quickness, length, and jumping ability.
.GIF Basket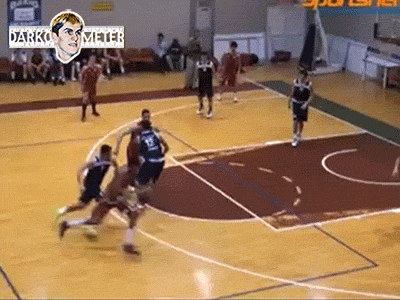 Length + Tools for D Like…
…Luol Deng, Mickael Gelabale and Nicolas Batum.

Guest Scout
We tabbed local scouts who have been following particular prospects closely all year to comment on their development this season.
Rod Higgins, Writer at In-The-Game.org
Giannis Adetokunbo has a way to stand out in a crowd of draft prospects. A 6'9″ point forward out of the Greek team of Filathlitikos with a unique life story—the son of Nigerian immigrants, he was born in Greece in 1994, but acquired the citizenship of his country of birth only a few weeks ago—and a seemingly meteoric rise to the upper echelon of young European stars, Adetokunbo shares very little in common with most potential first rounders.
Then again, his exceptional career path and game come with a few questions attached. For a first-round pick, the Greek forward has faced remarkably weak competition so far. Compared to D-1 ball, his opponents at the under-19 Greek league have rarely presented him with a true test of his athleticism and talent. And while he has played against grown men for Filathlitikos' senior team, the level of play in the Greek second division is not exactly an accurate indicator of NBA success. In fact, even the noticeably weakened first division of Greek pro hoops would not offer any conclusive evidence about his true potential.
European basketball has given rise to relatively unknown prospects that lured lottery teams before, but all of them had faced a bigger challenge before making the jump. The legal quagmire regarding his citizenship also prevented Adetonkubo from playing with Greek junior national teams, adding to the mystery (although he is set to play with Greece U20 this summer). This is why he could benefit from a season or two at a higher level of European basketball with CAI Zaragoza, a Spanish team that plays in the most competitive national league of the continent and holds his rights for the next four seasons.
This experience could also help him find his true position.
Adetonkubo is extremely comfortable handling the ball and changing directions even when pressured by smaller - and more conventional - guards. At the same time, his size allows him to look over the defense for open teammates in a pick and roll setting, or finish around bigger opponents thanks to his impressive wingspan. But his jumper off the dribble, coupled with his somewhat limited explosiveness on the first step, could undermine his creativity and ability to contain smaller guards.
Moving him to the wing would seem like a safer move, as he promises to become a reliable shooter with his feet set and can evolve into a defensive force from the weakside. However, he would have to bulk up in order to not only hold his own in the paint, but also catch the ball on the perimeter where he wants it, without being pushed too far away from the basket, as it is often the case with Filathlitikos.
In other words, the unusual context of Giannis Adetonkubo's accomplishments leaves certain key questions unanswered, but his physical talent and feel for the game offer significant promise. The fact that he hasn't worked out alongside other draft candidates so far makes him an even riskier lottery pick. That said, an NBA team with a sound player development system in place and/or an understanding of how European prospects should be monitored and evaluated after being drafted, could reap significant rewards for taking a chance on him.