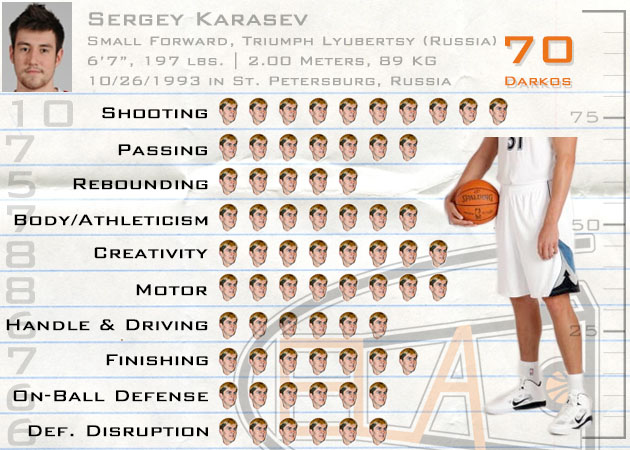 Shooting: It's an incredibly clean release and the lefty can launch it in a variety of ways.  Like most great shooters he's very comfortable in catch and shoot situations but can also get his jumper flowing off the bounce.  Pull-up elbow jumpers, baseline fade-aways, corner threes; you name it, he has the focus and consistency to become a high level shooter in the NBA.
Passing: Karasev is probably the smartest international player in this draft.  You can tell he's a coach's son.  He never forces the action if an opportunity isn't there, is deceptively great at hitting cutters, and keeps the ball moving.  Because Karasev won't have much of an off-the-dribble game in the NBA he'll be looked upon to shot well and be able to find the open shooter when a defense keys on him after he heats up.
Handle and Driving: He'd be a no-question lottery pick if he were excellent at this, too.  Karasev is not super quick or athletic, but he's very crafty.  He has an extremely effective jab step and the ability to find space for his jumper, but can have trouble taking it all the way to the hoop and finishing.  He's already a smart, opportunistic cutter, but Karasev will need to continue to develop that handle to keep defenders from crowding him and that gorgeous jump shot.
Crafty Like…
…Stephen Jackson, Chuck Eidson, Vladimir Micov and Tayshaun Prince.

Guest Scout
We tabbed local scouts who have been following particular prospects closely all year to comment on their development this season.
Vladimir Spivak, Russian Basketball Writer
While other potential first round picks are using final couple of weeks before the Draft  to show their best to the scouts both in Europe and the States, Sergey Karasev has shut himself down for the remainder of the workout process.
Karasev is currently in Slovenia in the national students' team training camp getting ready for the next month's Universiade. The word on the street is that he has a first round pick guarantee from one of the NBA teams. When hearing this, a Russian-owned Nets picking at No. 22 is obviously the first name that comes to any basketball mind. But even if Brooklyn hasn't promised anything to the forward, Karasev looks certain to be drafted in the first round.
Is Sergey NBA ready? If you judge by his confidence, game understanding and shooting ability - yes, he is. If you look at his body - you'd think he probably isn't.
But one thing for sure - an NBA team could use his desperate ability to get better and work ethics to recruit a potential starting wing.
Let the Man Speak