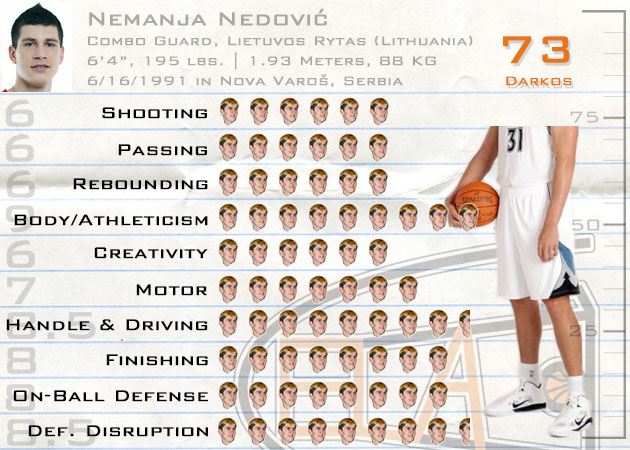 Handle and Driving: Everything Nedovic does is based off of his athleticism.  He has a really powerful first step and is strong enough with great leaping ability to finish once he gets in the lane.  His handle is good but not super refined, it's more trying to keep the ball going at the same pace as him.  The next transformation will be knowing when to pick his spots on the drive.  Nedovic can get in trouble by just going full throttle and forcing his athleticism in the half court offense, but he'll be even more dangerous when he can utilize his driving ability when the defense is most off guard.
Passing:  If you're planning on sticking Nedovic at the point-presumably for short stints early in his hypothetical NBA career—be ready to watch him attack the rim with reckless abandon and slap the floor, defensively.  But don't expect him to step in and run your team's offense.  Or at least be ready to wait a minute and cringe occasionally. It's not that Nedovic is a bad passer (he's not),  but making the right one, and sometimes the simple one, can be tough at times.  This wisdom, this patience that's presently absent, is something that could come with experience, but let's also face the fact that we really have no idea.  Nobody questions his ability to crank up the speed, but the question is whether or not he'll learn to take off a few miles/kilometers per hour and see those passing lanes that a pro point guard needs to take advantage of.
On-Ball Defense: He's not there yet, but because of his solid body, size, and athleticism for a combo guard, Nedovic profiles as a really solid defender.  This year he was sometimes unable to stick with much more un-athletic guards because of youthful laziness from not having a full understanding of where he needed to be on defense and what he should be doing.  But that seems teachable.  So if he can be coached up and unleashed, expect a possible Avery Bradley or Eric Bledsoe type defensive ruckus in your second unit.
.GIF Basket
Yam.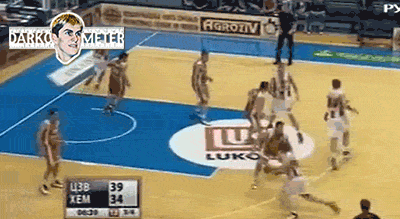 Stuffed yam.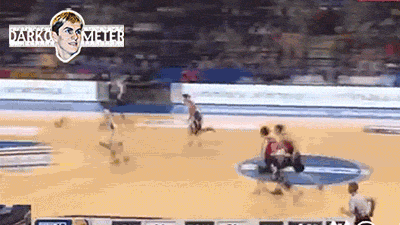 Physical Combo Like…
…Jeremy Pargo and Eric Bledsoe.

Guest Scout
We tabbed local scouts who have been following particular prospects closely all year to comment on their development this season.
Alejandro Gonzalez, Director of Scouting at A+ Basketball
At the recent Adidas Eurocamp in Treviso, three players looked way more mature, clearly a few steps beyond reach of the rest of kids. Raul Neto, Alessandro Gentile….and Nemanja Nedovic. They all three looked like men playing among kids. Still, that is only a current advantage and won't be enough down the road. And in Nedovic´s case, the absence of changes, opposite to Dubljevic's situation, isn't necessarily mean good news.
We still don't know whether he can be a serviceable point guard in the future, a guy who can run a team efficiently. We haven't seen many strides in that direction in this past season. This could be the pivotal point concerning his projection, especially when it comes to jumping into the NBA. He didn´t show us that he's smarter, calmer, a better decision maker with renewed court vision. However, he still has time and room to improve. His impressive physical tools will likely get him a long career in Europe and a chance to make it to the NBA someday but we really need to see some evolution in order to actually think he can be something different, a main player on any side of the Ocean. He has improved his outside shot and that is a promising sign. Still, the biggest concern remains: the most important step forward hasn't been taken.