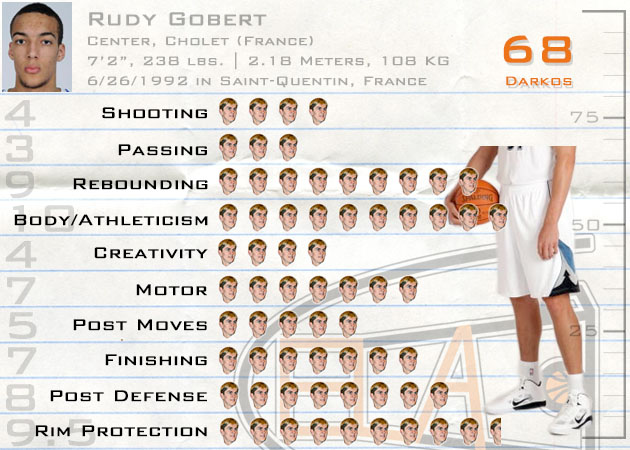 Body/Athleticism: One of the longest wingspans ever in the Draft Express database (7'8.5″).  His size is what had him shooting up draft boards last summer and is what has kept him around.  He'll be able to reach over most to rim rattle put backs home and tip away weak floaters.  He's a great target for point guards who like to throw lobs or need a bailout pass.  At this point his strength is weak, his hops are decent, and he gets off the floor quickly given his size.
Rim Protection: This is where Gobert will or won't make his bones.  He's going to be drafted to protect somebody's rim; any offense will be more of a bonus.  Right now he does a good job of blocking shots but could still do better at constantly harassing drivers and making shots harder even if he can't block them.  But with a 7'8″ wingspan, even if he's late on his rotations, he's long enough to recover and contest a lot of shots in the paint.
Post Moves: Often Gobert seems like he doesn't know where to be or what to do.  He lacks really any go-to post move and is close to useless on offense unless given the ball for an immediate scoring chance.  If Gobert is going to become an effective NBA big man he needs to work on making himself available for lobs and dump-off passes on offense, while being in the best position to alter shots on defense.  Right now he's all body and little game.  He just lacks that extra skill whether it be motor, post moves, a jump shot, or anything besides length and using that length to block shots and dunk.
.GIF Basket
Offensively Unaware Like…
…Bismack Biyombo, JaVale McGee and Alexis Ajinca.

Guest Scout
Valentin Le Clézio, Writer at BasketAmericain.com
Rudy Gobert has gone through a crazy 18-month period. The kid from Cholet did not get invited to the Nike Hoop Summit in 2012, nor did he have a spot reserved at the Adidas Eurocamp in Treviso. He finally ended up playing there with the U20 French National Team, crushed everybody in front of him, had insane measurements and saw his name at the top of NBA 2013 mockdrafts a couple of days after the event. Since then, Gobert has had to struggle with a coach (Jean Manuel Sousa) who was not really willing to give too many responsibilities to a kid sure to be a goner at the end of the season, and Rudy received inconsistent playing time. Despite this factor, Gobert ended the year with his best individual season as a Pro (8 points, 5 rebounds, 2 blocks a game with a 71% shooting percentage).
Rudy Gobert as a prospect has absolutely phenomenal physical tools. Tall (7'2″ with shoes), incredibly long (7'8.5″  wingspan) and possesses a rare ability to run the floor at his height. He has a really decent touch around the basket, understands his role and never forces a shot. However, he is still fairly limited offensively and needs to develop his repertoire on the low block. He has also started working on his jump-shot but it will take some time before we can see it on a regular basis in game situations. Furthermore, he is only an average defensive rebounder at five defensive boards/40 minutes.
Gobert does most of his damage on the defensive end where he has become a game changer at the ProA level. His length, timing and instinct have made of him the best shot blocker in ProA the past two seasons. Gobert averages over 3.5 blocks/40 minutes and it does not take into account all the shots he does not touch but changes thanks to his good mentality. Finally, if we saw constant improvement in his upper-body shape the past two seasons, he will also need to strengthen his lower body if he wants to offer resistance to NBA centers down low. He spent too much time on the ground last season because of that weakness.
If an NBA team believes in him, feels like adding 30 to 40 pounds to his frame will make him a game changer at the NBA level, is willing to give him time and be patient as he works through their player development program, they should draft Gobert. He is a very intriguing high risk/high reward type of prospect. Gobert is a hard-worker with a winner's mentality. He has not proven anything yet but it is this constant drive that could make him special a few years down the road.