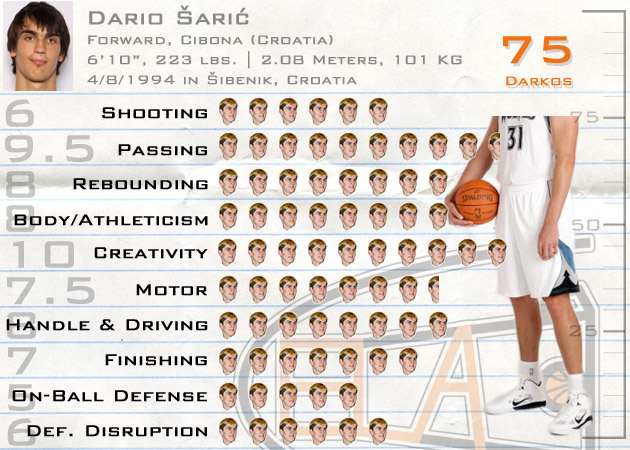 Passing: What make Saric special are his guard skills in a big man's body.  He always has a feel for where his teammates are and a knack for finding different, difficult passing angles to get them the ball.  Possesses a really soft touch with his ball handling and is always ready to fire off a pass. To be able to drive and kick or work the ball to an open shooter or cutting big man is something incredibly rare  for a 6'10" player and can change the whole spacing dynamic for your team.
Handle and Driving: Doesn't have the quickest first step to blow by people but is very crafty with his dribbles and creative with his driving angles.  When you see him tear down a defensive board and start bringing the ball up himself, a whole world of possibilities are at his disposal.  His pull-up jumper is still a work in progress but he has some unique finishing shots (floaters, runners, one-handed push shots…) in the lane.
Defensive Disruption:  An underlying point to Saric's game is how much he hustles and disrupts things on defense.  He explodes to rebounds, chases down loose balls, and is quick to notice possible steal or block situations.  Averaged 1.9 steals and one block a game in the Croatian League this season.  Unfortunately, that very same hustle can sometimes take him out of a play.  But since Saric's on-ball defense is just mediocre, being able to play great off-ball defense will really help his development.
.GIF Basket
He doesn't make a ton of threes.  But when he does, he'll damn sure let you know about it.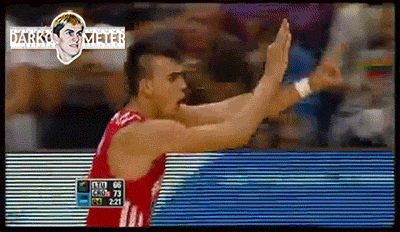 Vision Like…
…Hedo Turkoglu, Andrei Kirilenko and Emir Preldzic.

Guest Scout
We tabbed local scouts who have been following particular prospects closely all year to comment on their development this season.
Rafal Juc, Director of Scouting at Eurohopes.net
Dario Saric ('94) is one of the best prospects coming out of Croatia ever and talent-wise, might have even been in the lottery this year, however he decided to pull his name out of the draft with an intention to stash himself in Europe for at least one more year. Even though he finished strong averaging 15.4 points and 9.2 rebounds in the Croatian League playoffs, Saric didn't live up to the expectations in the 2012-13 season. In the Adriatic League not only did he make only 50 percent of his free throws, but was 36.8 percent from the field and scored only five times in double-digits, never standing out in Cibona's eight-man rotation.
Standing at 6-foot-10, Saric was described as a combo-forward, but that no longer appears appropriate. Having faced such demanding and competitive opponents, he struggled to contain more athletic wings on the perimeter and it seems that mainly due to his defensive shortcomings, Saric will be forced to play exclusively at the PF spot down the road, particularly in the NBA. Which is not bad for him, though.
Compared to previous years Saric bulked his upper body up, however he still needs to fill his frame out, because lack of legit strength limits him at the rim. With that said, Saric is not an elite athlete by European standards with only average explosiveness, however he's fluid and quite mobile, doing a great job playing at different speeds. Given his size Saric shows terrific ball-handling, often bringing the ball up the court. He possesses terrific body control, balance and fluidity, keeping his man guessing and getting to the line at a high rate. The Croat would have been one of the best passing big men in this year's draft with his tremendous court-vision and ability to create off the bounce, nevertheless, Saric appears sometimes careless and has to cut down on his turnovers. His feel to the game and level of its understanding is off the charts for a 19-year-old, however he still has some room to improve it with better understanding of spacing and positioning at the highest level.
Throughout his rookie season, Saric has been struggling with his shot selection, often taking risky touches and rushing his release. Mechanics and follow-through on his jump shots leave much to be desired, nevertheless he's fine in either catch-and-shoot or off-the-dribble situations from midrange. Anyway, with a view to the league, Saric needs to add a consistent three-pointer to his repertoire, to stretch the defense and make the best use of his face-up game.
Defensively is the aspect where Saric would struggle the most translating his game to the NBA. In Adriatic League he was simply unable to deny dribble penetrations from perimeter, often getting beaten off the dribble by more athletic wings. The Croat appears somehow heavy on his feet and given his only average lateral quickness it would be a long shot for him to develop into a lock-down defender on both wing positions. On the other had, Saric holds his own inside the paint, often facing stronger and more experienced big men. He took advantage of his smartness, quick hands and anticipation, staying active on passing line and controlling the defensive glass with great footwork and positioning.