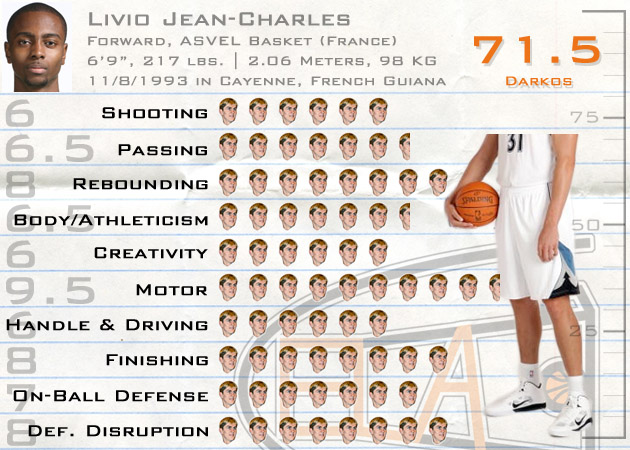 Rebounding: Jean-Charles' success in the NBA will come down to if his auxiliary skills will transfer over.  He's not a great shooter or scorer, but is terrific in other areas of the game.  Firstly, his sneaky rebounding ability will be a staple.  Jean-Charles does a great job of finding open space near the basket and tracking down the ball.  He has great quickness for when he plays power forward, lending him the ability to get to balls outside of his rebounding area.  He's not thick or an explosive leaper so you wouldn't think terrific rebounder at first, but Jean-Charles is tough, smart, and has a hunger to find the ball.  He's possibly the smartest hustler in the draft, a real ball seeker.
Defense: Jean-Charles grew up playing power forward but has spent the last two to three years transitioning to the small forward position, which he mainly played for his French Team Asvel.  While his offensive game is still very much evolving, his defensive game is already very flexible.  He's comfortable harassing wings or staying in front of bigs.  Also a very solid rim protector for a 6'9″ guy.  Jean-Charles adds to that a 7'3″ wingspan and a quick-jump ability to keep balls off his rim.  But the ability to guard at least two positions and protect the basket is extremely valuable in the current NBA, where teams are looking for small ball lineups that don't get torched defensively.
Passing: Passing will be highlighted here because it's a unique skill for someone like Jean-Charles to have.  He's the athletic defender who runs the break real well and rebounds better than his size shows.  But Jean-Charles has a real calmness to his game that allows him to see the floor and maneuver around the paint very smoothly.  His mid-range jumper is decent but has major hitches, and he is a crafty finisher, but the thing Jean-Charles does best on offense is find the open man.  His most dangerous move is probably a quick right-handed drive to a dump-off pass and then scrapping to get an offensive rebound in the event of a miss.  Great instincts for how he can be most helpful, even if it's in a mostly unglamorous way.
.GIF Basket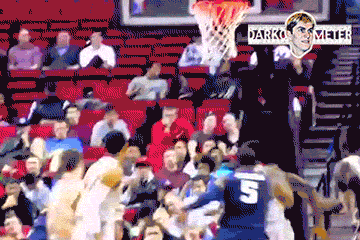 Nose for Action Like…
…Luc Richard Mbah a Moute, Viktor Sanikidze, Matt Barnes.

Guest Scout
We tabbed local scouts who have been following particular prospects closely all year to comment on their development this season.
Valentin Le Clézio, Writer at BasketAmericain.com
Livio Jean-Charles's stock skyrocketed this season. While he was considered a very good and promising young player following his first year at ASVEL Villeurbane, very few NBA scouts saw him as a potential draft pick in the 2013 NBA Draft. Jean-Charles was getting most of its minutes at the Junior level and had yet to show anything consistent with the ProA team. This season was a turning point. Thanks to the coaching genius of Pierre Vincent (who also coached Boris Diaw, Ronny Turiaf, Mike Pietrus or Tony Parker at the youth level), Livio sped up his transition from the 4 to the 3 position. Full of confidence after a good summer with the U20 French national team, he earned the starting job at Asvel by showing how versatile a player he could possibly be. Jean-Charles, a very long and athlete (6'9, 7'2.5″ wingspan) still needs to add some meat on his bones (217 lbs). That lack of strength often limited his playing time this season (14 minutes a game) as he had to guard smaller but stronger opponents. That strength issue may easily be fixed with an NBA team's training program. He also has to keep improving his ball handling and the range on his jump-shot if he, one day, wants to become a major offensive weapon at the highest level.
Jean-Charles can do a little bit of everything and absolutely loves to do the little things. He plays with a constant intensity which sometimes remind scouts of a young Gerald Wallace. He is rarely on the losing side of 50/50 balls, is a great rebounder at the 3 thanks to his length and athleticism, a great help defender and an above average on the man stopper.
Once he will have added to his frame, he should even become a very good low-post defender. His versatility is what NBA scouts love about him and also why he had that breakout week in Portland at the Nike Hoop Summit. Jean-Charles was very opportunistic and showcased his talents at the best moment in time in front of dozens of NBA scouts, finishing with 27 points and the unofficial MVP trophy in his hands. NBA people were not only impressed with his game but also with the way he behaves, speaks and emphasizes his work-ethic.
Projected as a high-to-mid-secound round draft pick, Jean-Charles still might stay stashed away for a few years in Europe if chosen. He just resigned a four-year contract with ASVEL and has a bright future in front of him.