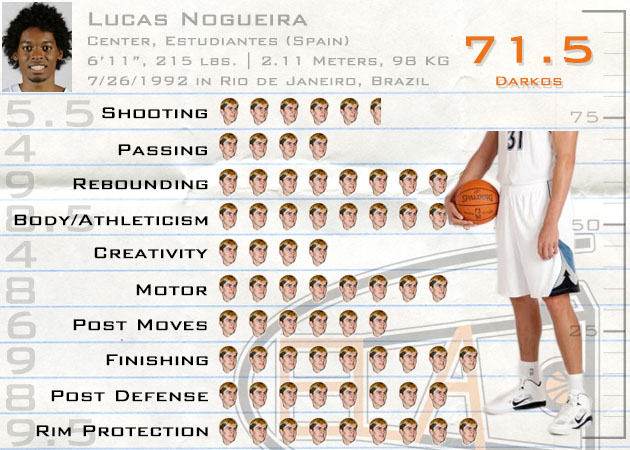 Motor: Plays at a very fast pace, excels running in the open court.  Nogueira has been on draft radars for years but has been playing in the fourth division in Spain or riding the Estudiantes bench until this year.  He hasn't developed many different parts of his game but instead relies on his physical tools and motor.  Constantly active in the paint on defense and is a rim runner on offense.  Activity with height and length is what has the NBA intrigued.  This is also what separates him in a positive way from Rudy Gobert.
Rim Protection: Nogueira is an energetic rim protector and can even contest multiple shots right in a row with his energy and quick hops.  Moves really well for 6'11" so can get out to contest a lot of shots,  not necessarily just next to the basket.  His mobility might lend to some minutes at the power forward position but because of his limited-ness on offense it would only be in certain lineups.
Body/Athleticism: His energetic style of play and ability to be a defensive presence in the paint are strengths because of Nogueira's body.  With a 7'5″ wingspan and a great burst for leaping, Nogueira is a dangerous pogo stick when it comes to protecting the rim and finishing.  He is very quick in transition for his size and can move quickly from one side of the lane to the other to contest a shot.  Still needs to add a lot of weight to incredibly skinny frame but he is getting bigger and an NBA weight room will help.
.GIF Basket
Suarez, Slaughter…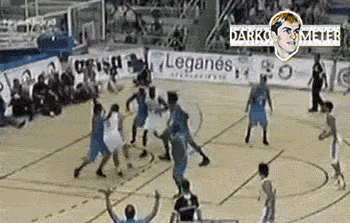 C'mere, Rudy.  Gimme them, Erazem.

Motor + Finish Like…
…Sasha Kaun and Chris Andersen.
Guest Scout
We tabbed local scouts who have been following particular prospects closely all year to comment on their development this season.
Jon de la Presa, Spanish Basketball Writer at ACB.com and Elsewhere
Lucas Nogueira hasn't got the talent, but nowadays is a more interesting prospect than his fellow ACB-Mates, Alex Abrines and Marko Todorovic. It's just a question of size, and as you all know these athletic tall guys are very valued there in the States. His numbers might not impress you, but his improvement is big as he has seen important minutes this year. He should stay in Europe one more year and try to be dominant, which is actually what he might do, being very close to an extension with Estudiantes. His size, his colossal wingspan and mobility make him a special player, despite being still raw technically.  On the other hand he's capable of getting a hand on plenty of shots, changing more, and rotating on defense. Needs to bulk his body up, but that's nothing  they cannot solve in the gyms there in the US. Offensively he also knows how to use his athletic and physical skills, being a threat in cuts, pick and roll, after offensive rebounds and in transition.